Nira Pereg
Plus
Joined

Location

Tel Aviv
Profile Images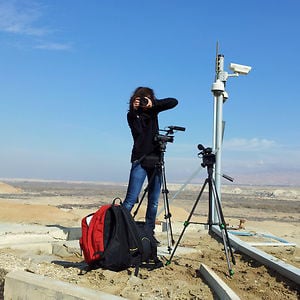 User Bio
Nira Pereg, born in in Israel in 1969, spent the 90s in New-York,
where she received her B.F.A from Cooper Union at New York USA.
On her return to Israel, she graduated from the Bezalel M.F.A
studio program in Jerusalem, and has been teaching internationally
ever since.
Pereg's multichannel video installations challenge the status
Quoof any territory she immerse her self in. She anchors her work in documentary practice.
However, in order to reverses the traditional role of the "real" into the "artificial" Pereg developed her own language in which
a studio produced sound track questions these images. This particular aesthetic intervention plays a crucial role in the work's spacial presentation, and heightens a constant discomfort with "the way things are".
The constant merger of spirit and matter, as it is displayed in Israel's coexistence of religious and political/military presence, serves as a platform for Pereg's interest and involvement in the social manifestations of systems and structures which influence our lives.
"Nira Pereg works by immersing herself in contexts that are both familiar and conflictual, thereby doing away with the notions of proximity and dis- tance. This apparently distant eye that Nira Pereg systematically applies to her subjects is the very form of her commitment. To show the mechanics of exclusion, to set up one's camera in front of the protocol of separation, as she does in Abraham Abraham Sarah Sarah, is to do much more than merely document a situation, it is to follow the thread of life running through socio-political mechanisms, to undertake an archaeology of the present."
Nicolas Bourriaud text- "Nira Pereg's Frontier zones" as it appears in the monograph Nira Pereg, Abraham Abraham Sarah Sarah

Pereg's works have been collected and exhibited at Center Pompidou, Paris, PS 1 New York, Hirshhorn Museum DC USA, HDK Berlin, KW Berlin, ZKM Karlsruhe, The Israeli Museum of Art in Jerusalem, House Der Kunst Munchen, Edith-Ruß-Haus für Medienkunst, Kusntahlle Dusseldorf, The Tel-Aviv Museum of Art, and at various festival and galleries, receiver of the Nathan Gottesdiener Foundation Israeli Art Prize for young artist, recently was presented at the Shanghai Biennial as well as Sao Paulo and Architecture Biennale - La Biennale di Venezia 2013.
Related RSS Feeds