Made in China
Joined

Location

Los Angeles
Profile Images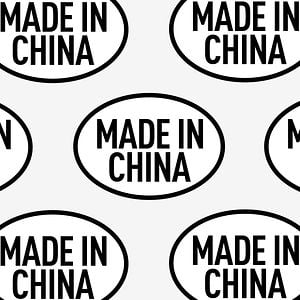 User Bio
FUNDRASING PAGE:
indiegogo.com/madeinchina
THE SECRET BEHIND THE STICKER 'MADE IN CHINA'
'Made in China' is a fictional story about the parallel lives of Michael and his wife, Marlene, in Los Angeles, CA and a Chinese woman worker and her supervisor, Chun, in Donguan, China. Michael is a business executive who is under intense pressure from his CEO to increase the productivity in his company's factory in China. He and his snobbish wife, Marlene, have a troubled relationship, but they put their marital problems aside in order to throw a small party to celebrate their son's third birthday. Meanwhile, at the same time in China, the Chinese woman (who is intentionally left unnamed because Chinese workers have no rights and no voice) works in her production cubicle as Chun, a factory manager,constantly abuses her with relentless sexual violence and aggression. The toy product that the Chinese worker produces by end of the film as she cowers on the floor from being forcefully kicked turns out to be the same toy product that Michael and Marlene's young son receives as a birthday gift.
'Made in China' is a fictional view into the world of the Chinese laborer versus the life of an American businessman. The joy that toys tend to bring children can be sharply diminished by the comparison to the violence and suffering that may have resulted from the toy's creation.
HELP END SWEATSHOPS, MAKING A BETTER WORLD
Most people have seen a 'Made in China' sticker at one time or another on a product sold in the United States. However, if people knew the reality of the conditions under which those products are made in China, they would be horrified and sickened, to say the least.
'Made in China' is intended to get people to think about from where the products that they purchase come and under what conditions. The goal of 'Made in China' is to try to create awareness about sweatshops by sending the message that people need to refuse to tolerate suffering and violence in the name of profit.
TRUTH
The Statistics:
Today China makes approximately 75 percent of the world's toys. "Dongguan contributes much to the growth of all of China," the city's mayor, Li Gui Kang, said. In Dongguan China, 72 percent of migrants are women, and young, mostly between 18 and 22. They earn minimum wages, approximetly $120 a month. "They have simple minds," To Chor Keung, SAE's director of facility planning said. "If they are stable, they just work here, they don't go out to karaoke, bars, and they can work 16, 17 hours a day." Other theories as to why almost all the assembly workers are women abound -- small hands make them better at fine tasks, they are better at following instructions, they accept the grind of the factory line. (Source provide from CNN)
The "Sex" City:
The gender imbalance in factories and the surrounding neighborhoods has created a vast class of lonely hearts." For these women, working as a migrant is part of their life's journey at a time when many are thinking of love," wrote Liu Kaiming, the executive director of the Institute of Contemporary Observation in his book Migrant Labor in South China." Therefore, the choice for women has traditionally easy, just "polygamy" as unfathomable reality.
1. CHINESE PRISON IS A TOY FACTORY
pixgrove.blogspot.com/2010/12/china-prison-toy-factory.html
2. CHRISTMAS: BROUGHT TO YOU BY CHINESE SLAVE LABOR
owni.eu/2011/12/21/christmas-brought-to-you-by-chinese-slave-labor-mattel-disney-china/
3. CHINA THE WORLD FACTORY
totallycoolpix.com/2011/02/china-the-worlds-factory/
4. Female Factory Worker's Desperate Life Leads to Suicide in Dongguan Factory
chinalaborwatch.org/news/new-347.html
WE NEED YOUR HELP WITH ANY AMOUNT
We have approximately 14 crewmembers in our team. All are working for free. the production is going to take place over the course of three days in July 2012. We are going to submit the film to social issue related film festivals, and woman film festivals. If the funds we gain from indiegogo is reaching the goal, the extra money that we are thankful are going for post-production and festival fees.
Location Renting ( a warehouse, a living room, a office set, and a factory bathroom.)
Transportation & Meals for our 14 crews and 14 actors.(5 dollars per person per meal.)
Utilities & Equipment (Renting Equipment: Camera, Lens, Tripod, Dolly, Track, Light, Filters, Softbox, Recorder, Mic etc.)
Costumes, Props, Production Design and Make-up
Every dollar is essential to us. Never think $1 is a small amount. We are encouraged by any amount of money!
OTHER WAYS YOU CAN HELP
Helping us by spreading the word to your friends, family and co-workers!
Share our campaign on your preferred social network.
Click "Like" on our film pages on Facebook, or Twitter.
SUPPORT OUR YOUNG FILMMAKERS
Ivy Yang, the director of 'Made in China', currently works as an intern at MGM-HD. She has been working mostly as a DP in order to gain production experience. Recently a short film "Intuition" she worked as Director of Photography is selected to screen at Cannes Film festival Short Corner on May 20th.
Stacey Marie Revel, the screenwriter of 'Made in China',has worked as an intern for Flat Cat Productions as a Second Assistant Director and within business and legal affairs. Her short film, 'Red', was recently submitted to the CSU Los Angeles Film Festival in May 2012.
Filip Cankovic, the producer of "Made in China" works as an intern at Mixed Roots Film & Literary Festival.
We are welcome you to meet our crews by visitiing our soial network pages!
We are a young, passionate group of filmmakers who live in Los Angeles and are pursing our dreams. Please support us to make this film happen!
THANK YOU!
中國製造
曾想過當你從玩具商店買回一個玩具,正準備將歡樂傳遞給孩子們的時候,這個玩具的背後隱藏了甚麼樣的祕密?我相信大部分人在這一刻都不會產生這樣的聯想。玩具的使命是給孩子們帶來歡樂的,爾大部分人確不知道在它的生產過程中,有這樣一群人,因為得不到人們的關注与重視,因為不會申辯,而過著監獄般的生活。
《中國製造》講述了同時發生在地球兩端的故事。第一條故事線講述了在中國東莞玩具廠,一名無名女工過著毫無人權的生活。另一條故事線講述了在美國洛杉磯,某玩具公司的銷售經理与其妻子之間的摩擦。兩個故事的同時進行,互相切換,作者期望以這樣的方式得意揭開隱藏在"中國製造"黏紙後面的驚人祕密。讓社會更加關注這樣一個群體,幫助他們捍衛自己的權益,提高他們的生活質量。
這部電影短篇將於七月份投入拍攝。我們需要籌募這些資金使這部短片達到專業的製作水平。我们感谢您的任何金额的資助。試想如果人人有這樣一份愛心,每人投入$1,3500個人可以讓這部電影進入製作;每人投入$10,350個人就能促進使這部短片發生。您的每一次分享,都可以使這部電影讓更多人知道,從而讓更多人關注這一話題,增加的它的影響力。
我們由衷的感謝您的任何方式的支持!
謝謝!
Related RSS Feeds
Recent Activity
Hi, it has been 2 hours, I didn't receive any email notification. My team are waiting to share the video. Please help to remove the flag. Thank you.

I just uploaded my promo video for a public service film project, I'm so angry that the vimeo stuff who flagged my account for spam without even see the content of the film, and which brings a lots of inconvenient for vimeo users. Please help the…