Campo Santo
Joined

Location

Guadalajara, España
Profile Images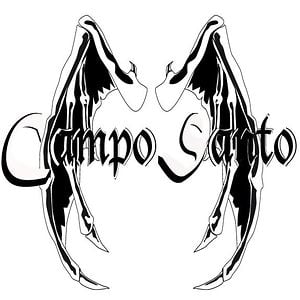 User Bio
Campo Santo es un grupo de Heavy Metal de Guadalajara que nació por el año 2009. La banda alcarreña practica un estilo que va del heavy clásico al trash influenciado por bandas como Iron Maiden, Black Sabatth o Metallica y las múltiples ocurrencias que les vengan a la cabeza.
Sus letras originales en castellano a menudo están inspiradas por obras literarias como El cuervo de Edgar Allan Poe o pictóricas como Las Hilanderas de Velázquez; sin dejar de lado temas más humorísticos de sus hechos cotidianos, de las historietas que han trastornado sus trayectorias y, de manera sutil, algo de compromiso.
Campo Santo acaba de sacar su primer LP con cuatro temas originales y una versión de Los Piratas que ha sido incluida en el disco recopilatorio "Multigamia. Una versión diferente de los Piratas". Las canciones de su primer disco son: Nunca Más, Aracne, Femme Fatale, Falso Paraíso y la versión de Los Piratas, M (de metal).
Podéis escuchar el disco completo de Campo Santo de manera totalmente gratuita desde su Myspace (myspace.com/camposantobanda). También en otras plataformas como puede ser BandCamp (camposanto.bandcamp.com/) y hasta en su canal de Youtube (youtube.com/user/bandacamposanto?feature=BF). Y, por supuesto, seguidlos en su Facebook (Campo Santo Banda) para enteraros de sus próximas fechas de conciertos, informaciones y fotos.
Cabe decir, para terminar, que para no saturar al público con sus temas propios, Campo Santo procura amenizar sus espectáculos con algunas versiones como Fear of The Dark de Iron Maiden, Crazy Train de Ozzy Ousborne, Hijos de Caín de Barón Rojo o Am I Evil de Metallica.
Los componentes de Campo Santo son:
Héctor Díaz "Bolsico" en la batería
Néstor García a la voz y la guitarra rítmica
Héctor Martínez "Puago" con el bajo
Jose Segura, que es el único del grupo que sabe tocar un instrumento y lo hace con su guitarra.
Contacto:
nestor.garcia.garcia@gmail.com
620-73-91-64
Related RSS Feeds