Franco Losvizzero
Joined

Location

Rome
Profile Images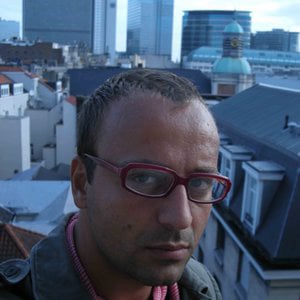 User Bio
Artist and director.
Real name Andrea Bezziccheri
nick (art) name Franco Losvizzero
more info, art works and video
on francolosvizzero.net
For invitation, to the exhibition and projections, on FB:
facebook.com/andrea.bezziccheri.franco.losvizzero
Franco Losvizzero's biografy
Born in Rome, Italy
e-mail: francolosvizzero@yahoo.it

He is an artist who lives between Rome, Venice and NYC

Franco Losvizzero's art is distinguished by using mechanical devices and by the hybridization between toys and pop surrealist humanoids.
The artist works in different ways; he has exhibited mainly mechanical sculptures and installations, even if the design and painting remain, since of his academy's time, at the center of his research. The works, whether his installations, video, photography or drawing, often evoke figures reassuring: toys, children's tales, chimes essence ... or altered in appearance able to awaken dormant anxieties of childhood and suggestions. The materials used are different types of plastic and resin but in particular, he use a "waxy plastic material" of his invention to characterize the majority of his sculptures and bas-reliefs on paper and paintings.

Deformity, exterior and interior, childhood and its transformations, symbols and images, ancestral masks , are all elements taken part of the work of Losvizzero."The bridge to get there is not outside but inside ourself , the dream and the memory are not as an objective but as a passage, the tunnel that leads me into the mountain, below, in the dark belly speaks about the cut of my mother, but also of my cuts ". (F.L.)
Here a list of some of the last exhibitions:
Aka The Swiss, at the Civic museum's in Sora; "Communion in residence at the Museum MAAM;" Catarifrangenze "curated by Achille Bonito Oliva (with Cucchi and Pistoletto) to Pelanda in Macro Testaccio in Rome." Charion " (caronte) performance between the National Gallery of Modern Art and Contemporary Art and the Academy of Romania ; partecipation of "54. Venice Biennale-Italian Pavilion in Turin - 150th Anniversary of Unity of Italy "; 11:11:11 The Garden Of Eden, at the Museum of the Botanical Garden of Rome; 54. Venice Biennale - Arsenal – this work wastoghether with Luca Maria Patella by Italo Zannier, the performance "the Year of the White Rabbit" -a woman rabbit on the white-horse at the fair "ROME-the Road to Contemporary Art" 2011; "Apocalypse Wow!" at the Museum Macro future of Rome, for the twentieth anniversary of the fall of the Wall, "Anima'LS" solo-show in Soho in New York; Finale Prize Cairo Editore at the Permanente Museum in Milan; Revelation XXI triple staff at Strychnin Gallery in Berlin; Bones That personal Messiah in Naples exibited in more spaces with presentation at the Museo Madre ( mother's museum )

Other exibitions are :
Miracle in Milan; Arts in Fabula in Certaldo; Visions of Paradise at IST. Swiss Culture of Rome; exhibits with the Ministry Of Foreign Affairs in Damascus, Beirut and Cairo paired with Marya Kazoun.
Franco Losvizzero is also a sculpture of Murano's, he produced three collections (works with crystal with a size of 3 meters high ) and video-artist: in 2009: Join the International Film Festival Of Rome-Sec. Fish Eye, with the film "N.VARIAZIONI" (BOMA 93minutes-production-'09, with Violante Placido, Luca Maria Patella and many others actors ) where he won the first prize "Pan Fish" and the prize "35mm". Signature with Luca Maria Patella some works of video art and in 2006 he participated with the film "The great dream of a dwarf" Festival "Loope" of Barcelona and at the Locarno film Festival.
About his studies:
he studied at the Academy of Fine Arts in Rome (Painting), Thames Valley University in London, directed and graduated from the IED in Rome (Photography), in 98 Wins Scholarship for the Atlantic Center For The Ars in Florida and is one of the five artists win the residence in Luxor for a cultural exchange Italy-Egypt.

Losvizzero exposed in collaboration with different curators including Francesca Franco, Julie Kogler, Lorenzo Canova, Maurizio Sciaccaluga, Alessandro Riva, Luca Beatrice, Martina Corgnati, Boris Bollo, Vittorio Sgarbi, Italo Zannier, Philip Daverio, Giorgio de Finis and Achille Bonito Oliva. His first solo was "Carillon-Anatomie mechanical" in Rome in 2005.


* * * * *

Breve biografia di Franco Losvizzero
Artista, vive e lavora tra Roma, dove nasce nel 1973, Venezia e New York
Vero nome Andrea Bezziccheri: utilizzato per le regia cinematografica
francolosvizzero.net

L' arte di Losvizzero si distingue sin dall'inizio per l'uso di congegni meccanici e per l' ibridazione tra giocattoli pop e umanoidi surrealisti. L'artista lavora con diversi mezzi espressivi; ha esposto principalmente sculture meccaniche e installazioni, anche se il disegno e la pittura rimangono, sin dall'accademia, al centro della sua ricerca. Le opere, che si tratti di istallazioni, video, fotografia o disegno, evocano spesso figure rassicuranti: giocattoli, favole per bambini, carillon alterati nell'essenza... o nell'apparenza, capaci di risvegliare suggestioni dell'infanzia e inquietudini sopite. I materiali trattati sono diversi tipi di plastica e resina ma, in particolare, è un "materiale plastico ceroso" di sua invenzione a caratterizzare la maggior parte delle sue sculture e bassorilievi su carta e dipinti. La deformità, esteriore e interiore, l'infanzia e le sue trasfigurazioni, simboli e immagini ancestrali, la maschera, sono tutti elementi ricorrenti nell'opera di Losvizzero."Il ponte per giungervi non è estetico ma interiore, il sogno e il ricordo non come fine ma come passaggio, il tunnel che mi porta nella montagna, sotto, nel ventre oscuro, mi parla del taglio di mia madre, ma anche dei miei". (F.L.)

Tra le sue ultime mostre ci sono: Aka The Swiss, personale al Museo Civico di Sora; "Residenza in Comunione al Museo MAAM; "Catarifrangenze" curata da Achille Bonito Oliva (con Cucchi e Pistoletto) alla Pelanda del Macro Testaccio di Roma. "Caronte" performance tra La Galleria Nazionale D'Arte Moderna e Contemporanea e l'Accademia di Romania; "54. Biennale di Venezia-Padiglione Italia a Torino - 150° Anniversario Unità D'Italia"; 11.11.11 Il Giardino Dell'Eden, personale al Museo dell'Orto Botanico di Roma; 54. Biennale di Venezia - Arsenale - con un'opera in coppia con Luca Maria Patella a cura di Italo Zannier; la performance "L'Anno del Coniglio Bianco" -una donna coniglio sul cavallo bianco- alla fiera "ROMA-The Road To Contemporary Art" 2011; "Apocalipse Wow!" al Museo Macro Future di Roma, per il ventennale della caduta del Muro; "Anima'LS", solo-show in Soho a New York; Finale Premio Cairo Editore al Museo della Permanente a Milano; Apocalisse XXI tripla personale alla Strychnin Gallery di Berlino; Ossa Ossia Messia personale a Napoli in più spazi con presentazione al Museo Madre.

Tra le mostre: Miracolo a Milano; Arts in Fabula a Certaldo; Visioni del Paradiso all'Ist. di Cultura Svizzero di Roma; espone col Ministero Degli Esteri a Damasco, Beirut e al Cairo in coppia con Marya Kazoun.
E' scultore di vetro a Murano dove realizza 3 collezioni (con opere in cristallo sino a 3 metri) e video-artista: nel 2009: partecipa al Festival Internazionale del Film Di Roma-Sez. Fish Eye, con il film "N.VARIAZIONI" (93minuti-BOMA production-'09, con Violante Placido, Luca Maria Patella e tanti altri) dove vince il primo premio "Pan Fish" e il premio "35mm". Firma con Luca Maria Patella alcune opere di video arte e nel 2006 partecipa con il film "Il grande sogno di un nano" al Festival "Loope" di Barcellona e al Festival di Locarno.

Tra gli studi: Accademia di Belle Arti di Roma (Pittura), la Thames Valley University a Londra per la regia e il diploma allo IED di Roma (Fotografia), nel 98 Vince Borsa di studio per l'Atlantic Center For The Ars in Florida ed è tra i 5 artisti in residenza a Luxor per uno scambio culturale Italia-Egitto.

Losvizzero ha esposto con diversi curatori tra cui Francesca Franco, Julie kogler, Lorenzo Canova, Maurizio Sciaccaluga, Alessandro Riva, Luca Beatrice, Martina Corgnati, Boris Bollo, Vittorio Sgarbi, Italo Zannier, Philip Daverio, Giorgio de Finis e Achille Bonito Oliva. La sua prima personale è "Carillon-Anatomie meccaniche" a Roma nel 2005.
Related RSS Feeds