Profile Images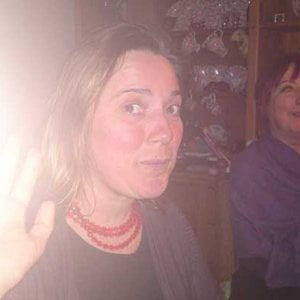 User Bio
I was born in The Angel of North London in the Summer of Love 1967. I studied History and Film in Norwich and Sheffield but in 1993 was lured away by the bright lights of Punk Rock Club toilets and excited fifteen year olds in Brownie costumes to make a film about the U.S. Riot Girl band Bikini Kill. This film took me to New York, and to San Francisco where I lived for 5 years. There I made films such as She's Real, Worse than Queer in 1997 and from 1994 to 1998 worked as a Staff member, Curator and Editor at Cinema/Gallery/ Cultural Hub, Artists Television Access. I also taught at the Academy of Art College and continued to perform in and curate LivePerformance/ Screenings Shoot the Women first.
In 1998 I got homesick and returned to London. Until 2003 I managed Sidecar Ltd., a Video Access and Production company in East London with the Goal of providing Skills and Creative outlet for Folk with Life situations which were limiting their access in this unequal world. I provided Production assistance and advice and devised, managed and taught Video Production courses.
I also directed and edited Documentaries such as As Is your Due in 1999, Breaking the boundaries in 2001 and The Experimental Playground in 2003. I still sometimes return to Film-making with for instance There ain't no Black in the Union Jack in 2008 and Laga Beach in 2009/10.
In 2004 I began to develop a Dance Film called Inside I'm Dancing with the Dance Company Booming Cherries. The project has never yet been realised but inspired in me a still continuing fascination with the Art of Dance and Physical expression.
Since that time I have regularly studied a range of Dance, Improvisation and performance styles; Such as Ballet and Contemporary Dance, Capoeira and Afro-Brazilian Dance, Action Theatre, Commedia Dell'arte, Viewpoints and Butoh. I am beginning to work increasingly with my Voice. My interests lead me to make my "home", friends and collaborators equally in the worlds of Dance, Theatre and Live/Performance and Fine Art. Since October 2008 I have curated and performed at monthly Mixed-Media "Happenings" at Red Shoe Space in East London.
I am experimenting with (to me) new forms, beginning to put into practice all that I have been learning. I am working with performance pieces of storytelling about my own experiences. At the moment I am developing a story about my Grandfather who ran away to sea at the age of 15 and died when I was six. I work in costume with still and video images projected onto me. I have some experience as an improviser and enjoy responding to the real present moment and acknowledging the environment and presence of the audience. I am keen to experiment with different environments. At the moment my work most resembles improvised stand-up comedy but I am keenly exploring and experimenting with how to create and work with "Scores". I use a variety of characters and performance styles. I also practice and perform with a variety of collaborators and I love to do so.
"You're really weird" Lynn BreedLove, Tribe 8, 1995
"You are a very eccentric person Lucy" Guillermo Gomez-Pena, 2008
"I just want to add that I think that you are an extraordinary and amazing person" Geraldine Pilgrim 2009
Related RSS Feeds