Profile Images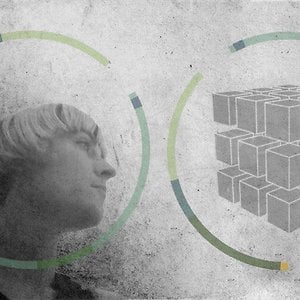 User Bio
Painter,graphic design, visual producer & video jockey.
Z&F (zielpunkt&farbe) aka Salva Bonet and Nuria Salomó have been a couple for 15 years and they have a strong background in culinary arts and graphic arts respectively. Being authentic electronic music lovers and driven by curiosity, they started to create their own audio and visual experiences from tunes created in different ways.
They have been influenced by all types of music, David Bowie, Trentemoller, Apparat, Anthony Rother, Fairmont...
They seek the essence of reason from intuition, every day is a different day, a new way of seeing, listening, feeling and hence, their musical stories are created.
nuriasalomocreacions.weebly.com/audiovisuals.html
vimeo.com/user17553066
facebook.com/pages/FARBE/494356127318268
nuriasalomocreacions.weebly.com
vimeo.com/user17553066
Farbe (Núria Salomó Vegas). Llicenciada en Belles Arts. Artista plàstica, dissenyadora gràfica i realitzadora de projeccions audiovisuals.
Creació i disseny de la imatge gràfica de portades de vinils, cds, maxi (covers albums). Disseny dels cartells, logos i flyers promocionals.
nuriasalomocreacions.weebly.com/disseny-grafic.html
Acompanyament de videoprojeccions per a set de disc jockeys i per a productors musicals projectant en directes.
PROJECTES
Forma grup amb el Dj i productor musical zielpunkt. Producció musical i audiovisual.
soundcloud.com/zielpunkt
Zielpunkt & Farbe productors musicals a Beatport dins del segell discogràfic Exit lab.
beatport.com/release/octopuss/1194047
Col.laboracions Visuals amb Dj Le blanc, Larry Lan, Codify Sinestesia, Zielpunkt, Game of draughts, Decksam, Noemí Padró, Suso Susoul i el col·lectiu Anderground Music.
Actualment forma part del projecte audiovisual Game of Draughts creat per la productora de música electrònica Decksam (Samanta C Waldram), i Farbe (Núria Salomó Vegas), fusió de sessions de disc jockey, música ambient, minimal, techno i electrònica experimental, per oferir performances on música i visuals van de la mà, mostrant una creació i producció audiovisual més personal.
facebook.com/GameOfDraughts?fref=ts
gameofdraughts.bandcamp.com/
vimeo.com/user17553066
Related RSS Feeds