Profile Images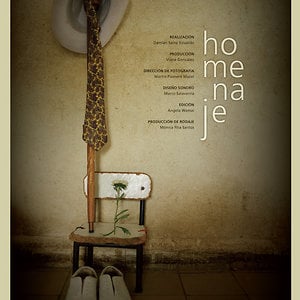 User Bio
HOMENAJE
Documental, 22'03'', Color, HD, Cuba.
SINOPSIS
Dos mujeres y un hombre muerto. Una era su esposa desde hace 30 años y la otra su amante y compañera de trabajo. Los tres convivían en un pequeño apartamento en aparente armonía. Sin embargo, la ausencia de él desata una lucha silenciosa entre ellas en la que está en juego el poder sobre la memoria del hombre que las une y las separa.
CREW
Guión y Dirección: Damián Sainz (Cuba)
Producción: Viana González (Cuba)
Dirección de Fotografía: Martin Flament (Francia)
Diseño Sonoro: Marco Salaverría (Venezuela)
Edición: Ángela Wamai (Kenia)
...............................................................
HOMAGE
Documentary, 22'03'', Color, HD, Cuba.
SYNOPSIS
Two women and a dead man. One of them was his wife for 30 years and the other his lover and work colleague. The threesome lived in a tiny apartment in apparent harmony. Nevertheless, the man's absence unleashes a silent battle between the two women in order to take control of the memory of the man who separate and connect them.
CREW
Direction: Damián Sainz Eduardo (Cuba)
Production: Viana González (Cuba)
Direction of Photography: Martin Flament (France)
Sound Design: Marco Salaverría (Venezuela)
Editing: Angela Wamai (Kenya)
Related RSS Feeds