This Burning Age
Plus
Joined

Location

Birmingham, UK
Profile Images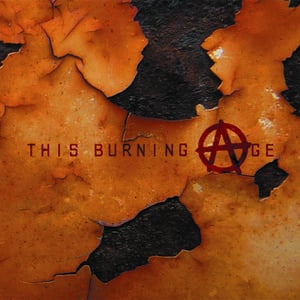 User Bio
This Burning Age's music is violently beautiful, bridging the "Electro-Rock" divide with startling finesse, delivering compulsive tracks that hook you from the start, and revealing a maturity of lyrics and arrangement that would normally only be found in more established artists, let alone newcomers with a debut album.
Their influences range into diverse and often conflicting genres: New Wave , Punk, Post-Punk, Industrial, Neue Deutsche Härte, Synth-pop, Post-Rock, Goth, Drum and Bass and Trip-hop with the end result giving rise to a depth, quality and intelligence of song writing and a distinctive, individual voice all of their own.
Bringing with them an equally electrifying live performance and a ten track album, "A Muzzle for the Masses" released on Friday's own label, 5th Day Records (created for this and future releases for as long as they are unsigned), in both CD Digipak and Limited Edition CD Digipak formats, you'll wonder where they've come from.
Originating from Birmingham, This Burning Age was started by Friday back in 2007 as a solo project. In September of the same year recording started on what was to become the 10 track album "A Muzzle for the Masses" with Friday writing, arranging and performing everything on the album. During the summer of 2008, towards the end of the recording process, he set about recruiting band members with a view to taking the tracks live.
2009/2010 saw their profile rise considerably. DJ and Television presenter Alex Zane selected "Panic (Bring on the Bomb)" for his radio show. This was followed by Kerrang Radio's Emma Scott playing "Human Condition" for five weeks running on her Saturday night "RAW" show and "End Game" receiving a two week run on Radio WM. This culminated in them being asked to open for established Alt-Rock stalwarts "Hundred Reasons" on the Birmingham leg of their UK tour at the O2 Academy 2, a night held in association with Kerrang. After taking on Management, the band are now booking gigs and festivals throughout the UK and into Europe with a short German tour planned for the first quarter of 2011.
Here's a small selection of what people within the music industry and fans are saying about This Burning Age:
The best new band in Birmingham - LIVEBrum
Interpol meets Sonic Youth in thoughtful, dark "alt-electro-rock"...they deserve attention - Birmingham Live Review
Every once in a while a band comes along that that defies the current practice of genre pigeon holing, This Burning Age are just such a band. Technically it's quite brilliant. You find complex layers of distorted guitars and synths, with dark, brooding drum and bass lines. The use of analogue equipment rather than the more modern digital equivalents give it a real retro feel without losing the up to date minimalist approach. I can almost imagine Eno doing something like this. A stunning debut album. - Midlands Rocks Online Music Magazine
This band are one of my "Midlands bands to watch out for" - Emma Scott - Radio DJ/Promoter (Kerrang Radio, Q Radio, Heart FM)
'Human Condition' holds a Duran Duran-esque suaveness while maintaining the credibility that comes with good, hard-hitting rock music. In a world where young bands think that a few flashy wailings from a Happy Meal synthesizer make their music electronic, This Burning Age really know what they're doing and where the right noises fit. Whether it's the apocalyptic groans of 'Repeat To Fade' or the oddly uplifting 'End Game', this album is a goddamn glorious example of electro/industrial/what-have-you rock. Your ears need this wonderful punishment. - Black Velvet Magazine
I believe you have the potential to go all the way and more, that the album is stronger than much of what is currently polluting the music industry - Vince Appleby - Scout for Universal Music Group
The music has a real edge and passion - Paul Murphy - founder of Songwriters Café and formerly of "The Destroyers"
A whole lot of passion, work, thoughts and emotions have been put into 'A Muzzle for the Masses'. It's audible in every note that's being played and word that's being sung. The record's going to send you on a rollercoaster ride through various emotional states and by all means should be checked out by any fan of ambitious, electronic/rock music. I think this band's got a bright future ahead of them - "Reflections of Darkness" - German Online Music Magazine
There are probably not more than a handful of bands that inspire me with every single one of their songs, but This Burning Age definitely have a place among those who do - Luna - Head of the This Burning Age German Street Team (who organised a group of fans to fly over to watch them support Hundred Reasons)
For Management, Press and UK/International Bookings please contact Lucie Webster @ 5th Day Records Artist Management Email: lucie.thisburningage@gmail.com Tel: 07971 254 518
Write to: 5th Day Records, PO BOX 15239, Solihull, B90 9FU
To contact Friday and This Burning Age directly:
Email: in-formation@thisburningage.com
Tel: 07812 189 401
Myspace: myspace.com/thisburningage
Official Website: thisburningage.com/
Flickr Photostream: flickr.com/photos/thisburningage/
Related RSS Feeds