Willis Construction
Joined
Profile Images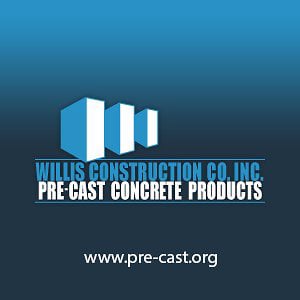 User Bio
Willis Construction's 30 plus years of continuous operation have provided us with the opportunity to serve our clients by providing innovative and creative solutions considering architectural and structural requirements, site conditions and budget considerations. We are team players willing to think outside the box, inside the box or any way that meets the clients needs.
Willis Construction has two production plants. One located in San Juan Bautista California, located approximately 30 miles south of San Jose and 80 miles south of San Francisco, California. Our second plant is located in Tecate, Mexico. Our production plants are PCI Certified* (Precast Concrete Institute). We provide Precast products for the entire state of California, but have also completed projects in the states of Washington, Oregon, Nevada, Arizona, Colorado, Louisiana, and Hawaii. Willis Construction projects can vary in size from 2 or 3 column covers to a Major League Baseball Stadium for the San Francisco Giants. We are pleased to participate in projects of any size or location.
Willis Construction has provided precast for a wide range of projects:
- Commercial Office/Retail
- Hotel/Residential Housing
- Parking Structures
- Hospital/Health Care
- State & Federal Government
- Educational (Universities, Junior Colleges, High Schools)
- Sports Stadiums
- Specialty Precast
Every project is unique in design, appearance and budgetary limits. Willis Construction produces three commonly used Precast Panel Systems that can accommodate a wide range of these design needs:
- Architectural Precast Concrete
- GFRC (Glass Fibered Re-Inforced Concrete)
- Thinshell Concrete
Willis Construction is dedicated to serving Architects and General Contractors throughout the design process of future projects. We look forward to discussing any design and/or budgetary questions regarding these systems as well as deciding which one would be best suited for your next project. Contact us here.
*PCI Certification confirms that a manufacturing plant has an ongoing quality assurance system in place. PCI Certification requires that the plant must consistently demonstrate their commitment to quality principles and procedures. A 120 point audit examines all aspects of plant operation including engineering practices and management commitment.
Related RSS Feeds
Recent Activity
Willis Construction does not have any activity yet.