Points Of You - Web Comedy
Joined

Location

London & Berlin
Profile Images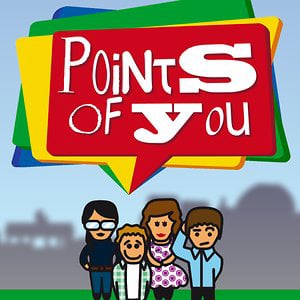 User Bio
WELCOME TO POINTS OF YOU! THE SLIGHTLY DIFFERENT WEB COMEDY SERIES!
Desperate to see the counting of the largest stamp collection in the world? Yearning to watch a silent programme about somebody dancing the alphabet? No? Good! Because you won't get any of that in Points Of You! You will however be confronted with cross dressing actors, spy gadgets, international conspiracy theories, love inducing plants and an amateur medical team saving a tree. That has to beat stamps and the alphabet!
To shake things up a little, we've given each of our four characters their own perspective to tell you their side of the story. And because they see things differently, they each have a different cinematic style. We've also included our character's thoughts, as it'd be a shame to miss out on what goes on in their heads. And as they obviously don't all think in the same language, we've added subtitles just for you (well, and the rest of the audience). After all we don't expect you to be quad-lingual.
Related RSS Feeds