Michael Lynch
PRO
Joined

Location

LA, CA
Profile Images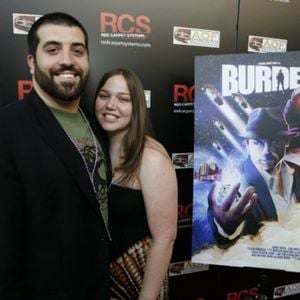 User Bio
Writer/Director/Producer — Michael David Lynch
Michael David Lynch is an award winning independent director and producer living in Los Angeles. His award winning sci-fi short 'BURDEN' was a favorite at multiple film festivals around the world. Recently Michael directed his first feature film DEPENDENT'S DAY ( facebook.com/dependentsday ) and a documentary film Victor Walk ( facebook.com/VictorWalkDoc ). Check them out.
From his modest beginnings as a film projectionist in his hometown of Ann Arbor Michigan, to his award-winning work in Los Angeles; Michael Lynch has recently been exploding onto the film world. "I feel privileged to see so many of the movies I work on end up on the big screen. Like every child of the 1980's, films like Star Wars and Superman set my imagination on fire; as an adult to have the opportunity to create exciting worlds for future generations to enjoy is a dream come true."
BURDEN had it's world premiere on July 25th 2009 in front of 2 sold out crowds which was the first a film sold out 2 shows in the AOF festival history. BURDEN WON BEST VFX at the Action On Film International Film Festival in July of 2009. BURDEN WON BEST FILM USA (Under 10 Minutes) at The International Film Festival of Ireland and WON Dragon*Con Film Festival Staff Pick Award in September of 2009. BURDEN WON BEST VFX FILM at the Fantastic Planet Sydney International Sci Fi and Fantasy film festival in Australia November of 2009. BURDEN has played in India, Ireland, Greece, France, Spain, Vancouver, Chicago, New York, Atlanta, LA, Maryland, Seattle among many more, list coming soon, unitl then check out burdenthemovie.com
BURDEN is touring the world throughout 2010 into 2011.
BETWEEN US is a feature film Lynch served as a Producer on that is currently on NETFLIX, enjoy checking that film out which is directed by Dan Mirvish, and stars Julia Stiles and Taye Diggs.
SWERVE is a film Lynch Produced that won awards while touring the festival scene, which features Shiloh Fernandez and Juno Temple.
DROP: My Life Downhill another film produced by Lynch, Directed by Marc McCrudden. -There are many Drop videos here on Vimeo check out my producer video channel.
Related RSS Feeds