KME Srbija
Joined

Location

Belgrade
Profile Images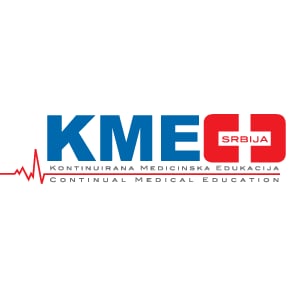 User Bio
KME–Srbija.com je sajt namenjen transparentnom prikazu akreditovanih kontinuiranih medicinskih edukacija i hirurških operacija. Pošto se godišnje u Srbiji održi više od 800 stručnih skupova, cilj nam je da većinu njih snimimo i te audio-vizuelne zapise publikujemo i učinimo ih dostupnim što širem krugu zainteresovanih.
Na kongresima, seminarima i kursevima, najčešće izlaže 5 do 9 predavača. Njihova predavanja su pored usmenog izlaganja, praćena i PowerPoint prezentacijama. Pošto tim skupovima prisustvuje od 50 do 150 zdravstvenih radnika, a poziv dobije njih od 1000 do1500, jasno je da je u Srbiji mnogo onih koji nisu u mogućnosti da dođu i prisustvuju predavanjima. Razlozi za to najčešće su ekonomske prirode.
Naš cilj je da pomognemo svim medicinskim radnicima da što brže i kvalitetnije dobiju informacije o naučnim dostignućima i tako obogate svoje znanje!
Pomažući njima, pomažemo i sebi samima!
Osim toga, tokom godine se obavi nekoliko hiljada operacija, često specifičnih. Ponekad ih izvode stručnjaci iz inostranstva koji našim lekarima prenose svoja saznanja o najnovijim dostignućima iz oblasti medicine. Sve to ostaje u okvirima operacionih sala u kojima je prisutno još eventualno 3 – 4 hirurga. Smatramo da takve zahvate treba snimiti i publikovati, kako bi mogao da ih vidi što veći broj hirurga širom Srbije!
Sve što se prikaže ili uradi, a ne bude zabeleženo, bespovratno je izgubljeno!
Iz tih razloga napravili smo inovaciju koja prati javne potrebe i nacionalni interes naše države Republike Srbije, radi savremenog prezentovanja akreditovanih edukacija u oblasti medicine.
Cilj nam je da sve te video zapise učinimo dostupnim što većem broju zdravstvenih radnika, kako bi oni znanje stečeno ovim putem mogli što pre da primene u praksi.
Related RSS Feeds
Recent Activity
KME Srbija

tagged

Prof. dr Dejan Radenković

with

Zoran Kokar

,

Studio Kokar

,

donacije

,

donatori

,

kme

,

cme

,

srbija

,

beograd

,

medicina

,

medical

,

kongresi

,

seminari

,

kurs

,

predavanje

,

edukacija

and

Bern modification of dudenum pre