Henry Gwiazda
Joined

Location

Fargo, ND
Profile Images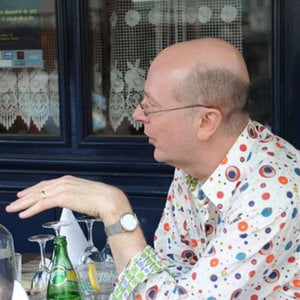 User Bio
Henry Gwiazda is a new media artist/composer whose artistic trajectory has taken him from sampling, sound effects, and immersive technologies to his current work with new media. This new work is a comprehensive artistic approach that has resulted in work that is multimedia in nature and focused on movement. Gwiazda's works are regularly screened in festivals and galleries throughout the world including New York, Paris, Madrid, Cairo, Amsterdam, Beijing, Berlin, Naples, Marseilles, Seoul, Damascus, Athens, Istanbul, Moscow and many others. He won First Prize at Abstracta Cinema in Rome and Second Prize at the Crosstalk Video Art Festival in Budapest. His work is available on Innova Recordings.
"The colors, drawing, modeling, and depiction of movement in these videos is quite beautiful and riveting, depicting the most everyday, least dramatic aspects of ordinary life as being full of beauty and luminous radiance…These works evoke for me a state of consciousness which I have attained more frequently as I get older. The state of being strongly Present in any given environment and having a heightened awareness of the relationships between ordinary events and sounds brings with it a sense of joy, which is probably the joy of knowing that there is so much beauty and pleasure in being alive and is seeing, hearing, and feeling things, even when life is also full of horror and evil. These video evoke this sense of joy for me." David Finkelstein, review Film Threat.com, "...she's walking..."
"… these scenes can be experienced as a gateway into a paradise where shifts of light, tiny gestures and events, and precisely rendered sounds all become a kind of exhilarating music. David Finkelstein, review Film Threat.com, "claudia and paul"
Related RSS Feeds