terracedailyonline
Joined

Location

The Center of the Sacred Circle
Profile Images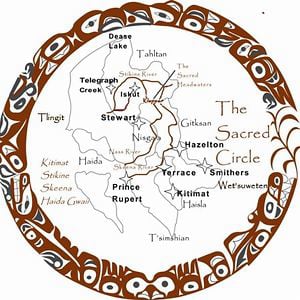 User Bio
The Sacred Circle is a representation of the recognized territories of the Haida, T'simshian, Haisla, Nisga'a, Tlinglit, Tahltan, Gitxsan and Wet'suwet'en; all Matrilineal First Nations featuring Totems and Feast Halls.
see sacredcircle.ca
When seen from above the major rivers of the region form the profile of a Native Chief looking east.
At the eye socket, where the rivers all originate is the Sacred Headwaters, a coal bed water filter for the entire Sacred Circle.
The Stikine River defines the top of the head with the forehead and the Klappan River makes a hairline drop to the eye socket. The Skeena River starts below the eye at the bridge of the nose and fully outlines the nose, lips and chin as it makes its way to Prince Rupert through Terrace and the Hazeltons. The Nass River defines the check bone and the hairline as it makes its way through the Nass Valley to Kincolith. The Inlets and Channels of Alaska, following the outfall of the Stikine River running southwest past Wrangell and Ketchikan to the Dixon Entrance, define the mane of hair. Haida Gwaii is the end of the pony tail where the hair flairs out from a tie.
In the middle of the eye socket, the point where the Nass heads south and the Klappan runs north is a small lake, twinkling like the flash of wisdom from an elder's eye.
A treasure for the region, always there, always waiting.
Related RSS Feeds