dario congedo
Joined

Location

Lecce, Italy
Profile Images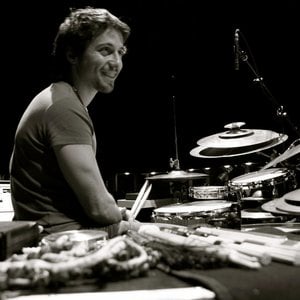 User Bio

graduated in percussion at the music academy 'Tito Schipa' of Lecce in 2005. 
He has studied drums with: Maurizio dei Lazzaretti, Fabrizio Sferra, Alessio Riccio.
He has studied in New York with: John Riley, Matt Wilson, Jonathan Blake, Jim Black, Ernesto Simpson, Vince Cherico.
Under the tutelage of M. Carrano, he obtained a degree in Afro-Cuban Percussion after a three year course at the Tito Schipa Music Academy of Lecce.



As soloist:

- Earned first place as "best musician" in the 7th National New Generation Competition (Castelfidardo, April 2005).

-He placed 2nd in his category at the Percussion Days International Festival (Fermo, 2006).

-Won First Prize at the 2008 Naco Memorial Percfest International Competition as soloist. 


He has played and recorded with:

Gianluca Petrella,Javer Girotto, Nguyen Le, Tino Tracanna, Giancarlo Parisi, Arnaldo Vacca, Massimo Carrano, Gilson Silveira, Giovanni Imparato, Fabio Zeppetella, Jaques Mauger, Alberto Parmegiani, Orchestra mediterranea di Andrea Alberti, Claudio Filippini, Gaetano Partipilo, Ginger Brew, Opa Cupa, TaxFree, Arthur Miles ,Canzoniere Grecanico Salentino... .

He has collaborated with many conductors, such as: Monsignor Marco Frisina (winner of the "Cable Ace Award" in USA for "Giuseppe", "1998 Sound Track Award" for the music for the movie "Bible").


Discography:
-Dario Congedo & nadan: "nadan", Giorgio Distante, R. Casarano, Marco Bardoscia. Blue Serge records 2009


-Percusonido : "Suoni della terra", with Arnaldo Vacca and Massimo Carrano (2002)

-Raffaele Casarano & Locomotive :"Legend" feat Paolo Fresu .(Dodicilune dischi 2005)

-Nicola Andrioli quartet : placed second at the "3rd etno-jazz music competition" (Milano). The performance was recorded and published by i.d.o.s records" (2006, etnoworld editions).

-Marco Bardoscia quartet: "Opening" featuring Gianluca Petrella.(jazz engine records 2007)

-Alberto Parmegiani sextet: with Gaetano Partipilo, Claudio Filippini, Raffaele Casarano, Marco Bardoscia

-Sex Rockin': Javer Girotto, R.Casarano, M.Bardoscia, L.Aquino, D.Congedo- 11/8 records
-E.I.J. : G.Distante, A.Nosenzo, C.Filippini, D.Congedo (2008)
- Kiss of Death "I.Inc" 2004

Related RSS Feeds