Alla Nikitskaya
Joined

Location

USA, NH
Profile Images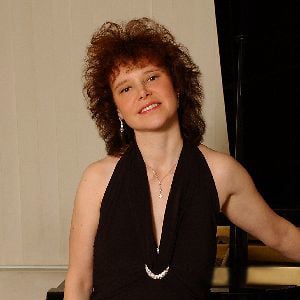 User Bio
"Pianist Alla Nikitskayas playing is notable for consistently lovely tone, polished technique, and perceptive musicality. Her interpretations are thoughtfully conceived and well paced: she never slights detail but doesnt let it overwhelm the total picture. She can play with great passion—in the Schumann Fantasie, for example—and with dreamy or turbulent Impressionism, as in her Debussy group. The Rachmaninoff pieces are shaped with lyrical fluidity, and her Chopin and Liszt transmit romantic poetry or ardor as required." Fanfare Magazine.
Alla Nikitskaya, third-generation musician, began playing piano at the age of 5, then studied at the Moscow Conservatory Music School and at the Moscow Conservatory College in Russia, and graduated with an honors degree. She continued her education at the Moscow Gnessin Institute. She represents Neuhauss school that emphasizes on mastering a nice piano sound and a so-called singing legato while encouraging emotional freedom in performance.
At that time, she started developing her career as a solo pianist and a piano duet pianist. After graduating master class program she started touring Russia and playing piano recitals. Her performances were broadcasted by Moscow radio and TV programs. Alla recieved Scriabin's Radio Festival Special Award as a pano duet player at Moscow Pillar's Hall. Her repertoire includes works by Schubert, Mozart, Bizet, Chopin, Rakhmaninov, Scriabin, Bach, Glinka, Tchaikovsky and other composers. Alla has her original classical/jazz/new age compositions as well.
Currently Alla resides in USA. She is performing across New England with the great success. She also recorded two CDs, "Romantic Interpretations" and "East Meets West". Both are available on Amazon.com.
You can find more info at allanikitskaya.com
Related RSS Feeds