Paul Blackley
Joined

Location

Isle of Wight
Profile Images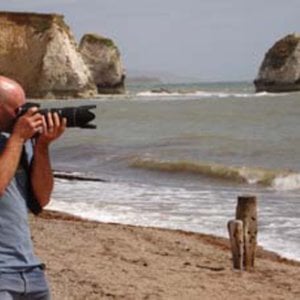 User Bio
I have had an interest in photography since a very early age and at age 9 I became the Barclays Bank Isle of Wight Junior Photographer of the year with an image of the stormy seas smashing against the sea wall at Freshwater Bay.
My interest in photography grew as I went through school and I gained an O'level in photography.
I worked for the Isle of Wight County Press Newspaper for about 5 years working in the darkrooms.
As a part-time freelance photographer I covered Surfing Competitions including the South Coast Championships and photographed Trampolining and Gymnastics on the Island and covered the World Trampolining Competition in Auckland, New Zealand in 1992. I also covered some news stories on the Island including the fire that completely destroyed the garage in Orchard Street in Newport.
In 1993 I took voluntary redundancy from the Isle of Wight County Press in order to travel the world. Surfing had become a big part of my life and I had been very lucky to have visited Hawaii and New Zealand the previous year, giving me a taste for travel. I flew back to New Zealand where I surfed and swam with dolphins in the wild, saw porpoises and sperm whales and even helped the New Zealand Department of Conservation in saving 43 stranded Pilot Whales. With these events, and the people I met, places I saw and wildlife I encountered my photography became as important during my travels as surfing.
I also traveled to Australia, Indonesia, and many countries in Europe before finally coming back to the Island and starting an evening course in the photography at the Isle of Wight College. I also became the Isle of Wight Surfers Against Sewage (S.A.S.) representative, actively campaigning against the then proposed sewage outfall at Sandown. I covered the protest march in Sandown for the S.A.S. and was published in their Pipeline News magazine and the Isle of Wight County Press Newspaper.
In 1997 I started work for the NHS at the Isle of Wight Hospital and also at this time I started to specialise in wildlife photography. Red Squirrels soon became a popular subject for me on the Island, but even on holidays to south west France I would always have my camera to hand in case of a chance of shooting these lovely creatures. I also spent a wonderful time on Vancouver Island photographing killer whales (orcinus orca), grey whales and porpoises and 4 weeks in Mexico being able to shoot bottlenose dolphins and humpback whales.
In 2004 I bought my first digital SLR the Canon EOS 300d and this really re-ignited my passion for photography. In 2005 my first child was born and with in a few weeks my father and grandmother died, neither of them well enough to see my daughter before they died. This made me realise that I wanted to dedicate more time to the things I loved the most, my family and my photography.
I improved my equipment over the next two years and when my second daughter was born I gave up work to look after my children and concentrate on my photography.
The Sandpipers Hotel at Freshwater Bay took 35 framed images for display in 2007 and this gave me the confidence to approach Dimbola Galleries and Photographic Museum about having my own wildlife exhibition.
In 2008 I made the top 12 in a Gerald Durrell wildlife photographic competition which was being run by MyMemory.com and my image was used in a desk top calendar.
The exhibition at Dimbola went ahead in May 2009 and was really successful. I then went onto approach other Galleries about displaying my work. Island Life did a 2 page article about me and my photography and the Beacon had an article the 'Centenary of an Island Natural History' using 3 of my images.
After photographing the 'Round the Island Race' I was approached by Yachting and Boating website to ask if I would be covering Cowes Week. My images of Cowes Week 2009 were used everyday on their website and made cover image to their gallery twice. Yachting World Magazine then used 3 of my images in their article on Cowes week.
I was highly commended for a picture of Barn Owl in flight by the Hampshire and Isle of Wight Wildlife Trust and they are using the image for display at one of their reserves.
After coming 3rd in 2009 Isle of Wight Photographer of the Year – Go Wild on Wight Category, One Island Magazine used my image for the cover of their Jan 2010 issue.
The highlight for me in 2009 was being shortlisted for the British Wildlife Photography Awards.
In late 2009 I embarked on another project with fellow surfer and photographer Jason Swain on documenting the History of Surfing on the Isle of Wight. The project was launched with an exhibition at Dimbola of contemporary surfing photography by myself and Jason which now has a permanent home at the Beach bar at the Sandpipers hotel.
Also in the last couple of years I have published a couple of books 'Fox from the copse' and 'Red Squirrels on the Isle of Wight'.
Related RSS Feeds
Recent Activity
Paul Blackley does not have any activity yet.