Guenny Pires
Joined

Location

Los Angeles
Profile Images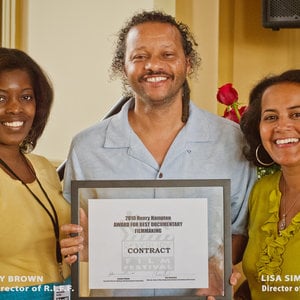 User Bio
I was born in the Island of Fogo, Cape Verde Islands, West Coast of Africa. I live in Los Angeles, where I work as filmmaker with different film projects around the world.
I am an very competent and experienced Digital Filmmaker, Director of Photography, Editor, Photographer, and Visual Arts Instructor.
I have over 12 years of experience in the film industry in various capacities including all aspects of production, and I have also worked in the educational sector teaching at several arts' schools and programs. I am specialized in physical production and post-production and I am extremely skilled in authoring, graphics software, nonlinear editing, 2D and 3D effects, transitions, graphics, title creation, animation, after effects, and motion. I'm very proficient editor experienced in FCP with master knowledge of making documentary, fiction, trailer for TV, and reel presentations.
I'm expertise in Sony HDV, Canon series 5D, 7D, XH1, Panasonic HVX200 P2, Varicam, etc. I can work with any kind of lens (8mm, 16mm or 35mm.) I am specialist in many levels of production, including cinematography, light design, and sound recording.
I have great knowledge and experience on authoring DVDs, presentation reels, and delivery any kind of master format DIGIBETA, DVCAM, SD, HD, DV, and DVD as well. I also have my own editing system (FCP 6 including graphics software as: Motion, After Effects, DVD 4, Photoshop CS, Illustrator, Live Type, Compressor, Soundtrack Pro, and Cinema Tools.)
I'm a pioneer in film making from my native country Cape Verde and an multi award-winning filmmaker dedicated to bringing the history and culture of my native Cape Verde to the world's attention.
My films have positively contributed to many other African nations and Cape Verdeans teaching them about their past history. My projects including film work with Noam Chomsky, an American linguist, philosopher, cognitive scientist, and political activist. He is an Institute Professor and professor emeritus of linguistics at the Massachusetts Institute of Technology.
My first feature length film, "The Journey of Cape Verde," was an international landmark project that made a wide audience aware of the fascinating archipelago nation for the first time.
"The Journey of Cape Verde" won awards and left an important imprint at events such as the Pan African Film & Arts Festival, Lusophone Film Festival, Images 2005, Moondance Film Festival, Athens International Film Video Festival, Madeira Biennial, just to name a few. During the Pan African Film Festival, this documentary became the first Cape Verdean film with two screenings in Hollywood.
AWARDS:
Director/Cinematographer/Editor
"CONTRACT" (Feature Docudrama Film 79mn);
Audience Favorite Documentary Award, 2010 Pan African Film Festival;
Award For Best Documentary Filmmaking, 2010 Roxbury International Film Festival;
"GENOCIDE IN SRI LANKA" (Short Documentary 13m).
The Best Short Documentary 2009 Atlanta Film Festival;
"THE JOURNEY OF CAPE VERDE" (Feature Documentary 83m.)
Diploma of Merit 2005 Pan African Film & Arts Festival;
Award Favorite Audience 2005 Athens International Film Video Festival;
Award Best Cape Verdean Movie 2005 Imargens Film Festival.
For more info please visit:
guennypires.com
youtube.com/user/filmmakerpires
Related RSS Feeds