Priti Gulati Cox
Joined

Location

Salina, Kansas
Profile Images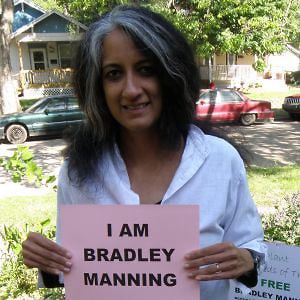 User Bio
Priti Gulati Cox is an artist who lived in India until she moved to Salina, Kansas in 2000. In 2008, she began work on a project entitled Vanishing India that reveals the effects of corporate globalization on the social, political and economic fabric of India. In 2010 she also started a sister project entitled Stree Jaati (Community of Women), documenting the effects of India's increasingly free-market-oriented policies on the women of her country.
In 2008, she created a guerrilla installation, Unfinished Portrait, to draw attention to loss of life in the invasion and occupation of Iraq. From October 2012 through October 2013, the work will take the form of a traveling exhibit/performance and will be a re-created and expanded version of the 2008 installation, that includes the post-2008 victims of the Iraq debacle as well as those of America's longest war, the one in Afghanistan. The work attempts to bring us face-to-face with the consequences of the US-led invasions of these countries, for all - the soldiers fighting these wars, the soldiers returning home, the civilian populations of these war-torn countries, the predicament of accused Wikileaks whistle-blower Bradley Manning, and Truth. This outdoor work is time-based, with each presentation starting in daylight and ending in darkness. The tour at this point includes Kansas City, MO, October 2012; Wassaic, NY December/January 2012; and Detroit, MI, March 2013. More events will be added through the year.
Priti recently started writing articles on some of the issues she addresses in her artwork. Her writings have appeared in AlterNet, Counter Currents, Green Social Thought and CounterPunch. Beyond Salina, some of the places she has exhibited and performed include the 2010 Women and Water Rights Exhibit in Minneapolis; Woman Made Gallery in Chicago; the 2010 United States Social Forum in Detroit; the 2011 Women's Caucus for Art's conference on Art and Social Justice in St Louis; the Percolator in Lawrence, Kansas; the 2012 American Friends Service Committee project, Unfinished Portrait, an Afghan War Memorial in Kansas City.
Related RSS Feeds