Sion Fullana
Joined

Location

New York City
Profile Images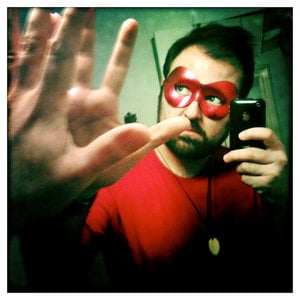 User Bio
Sion Fullana is a professional photographer, journalist and filmmaker living in New York City. He was born in Majorca, Spain, and moved to Barcelona to graduate in Journalism at the Universitat Autònoma de Barcelona. He then traveled to San Antonio de los Baños, in Cuba, where he lived for two years and obtained a diploma on film directing from the prestigious EICTV (International Film and TV School). After a brief return to his homeland for a year working as a TV reporter in Palma de Majorca he moved to Manhattan in 2006, where he has continued his journalistic and photographic collaboration with several international media outlets, and local ones like Time Out New York.
New York City has provided an endless source of inspiration for Fullana's urban and street photography, as he captures the raw reality of the city and its people. He is one of the most recognized members of the artistic movement known as iPhoneography, and has become in a very short period of time a celebrated pioneer in mobile photography, using his iPhones 3G, 3Gs and the new iPhone 4. Sion Fullana's work has been featured in photography blogs and magazines, such as Time Out NY, Wink-Magazine, Photocritic.org, American Photo Magazine, Out There, Homeland Magazine, Mashable.com or Gup Magazine, and one of his iPhone images even made it to the cover of a book published in the UK. He has participated as a guest speaker in events like the photography convention / trade show PMA 2010 in Anaheim (California), or the NY App Meet Up (a monthly networking meeting of app developers and entrepreneurs) in June 2010, where Fullana presented his iPhone work and shared tips and techniques to improve the photographs taken with the iPhone.
Sion Fullana has been the lead judge on the first edition of the EYE'EM International Mobile Photo Award, a competition to showcase the best photography work out there shot with cellphone cameras. Sion is participating in 3 different exhibits to showcase his own work: he was one of four international iPhoneographers participating at EYEPHONEOGRAPHY in Madrid (Spain) and also one of six artists featured at the current (until mid November) exhibit iPHONEOGRAFIA in Lleida (Catalonia), at the prestigious art center LA PANERA. Besides, his work has just been part of and curated the section "Local Heroes" at the second EYE'EM mobile photo exhibit, held in New York City's Open House Gallery in September.
Fullana's filmwork has been shown in film festivals worldwide, in cities such as Amsterdam, Auckland, Barcelona, Havana, Melbourne, New York City, Rio de Janeiro and Rome. He's currently in the investigative process of a documentary film, and brainstorming for a fiction short film to be shot using only his upcoming iPhone 4.
Related RSS Feeds