Profile Images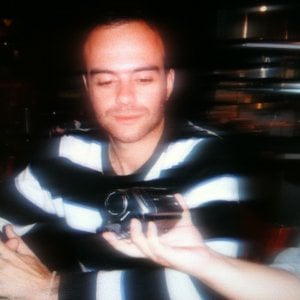 User Bio
Natural de Santa Cruz de Tenerife donde nace en 1981. Posteriormente se traslada a Madrid donde estudia cine y Filosofía en la Universidad Complutense.
En Abril de 2013 presenta su ultimo trabajo, el mediometraje "La Piedra" en Visions du Réel (Suiza) dentro de la Sección Oficial en concurso y gana, entre otros, el segundo premio "Ciudad de Alcalá" de Alcine 2013
En 2012 su segundo largometraje documental "Edificio España" participó en el Festival de cine de San Sebastián, el Festival Internacional de cine de Buenos Aires BAFICI, DocumentaMadrid o DOCLISBOA.
En 2010 realiza su primer largometraje documental "Holidays" que resulta premiado, entre otros, con el premio especial del jurado "Nuevos directores" del Festival Internacional de cine de Las Palmas.
Con su cortometraje "El extraño" gana, entre otros, el Gran premio a la mejor película en Notodofilmfest 09 o el premio especial del jurado del Festival Internacional de Viña del Mar (Chile).
También ha realizado los cortometrajes "Feriantes", "Fajas y corsés", "Fauna humana" y "Felices fiestas", que han sido premiados en festivales como En.Piezas , Mecal o Zinezi.
Otros trabajos suyos son "El género" realizado dentro de la actividad REC MURCIA organizada por La Fábrica y Consejería de Cultura de Murcia., y "La gran enana" que desarrolló en el Festivalito de La Palma.
Sus trabajos han sido destacados en revistas como Caimán Cuadernos de Cine (mejores trabajos del año) y emitidos en TVE y Canal Plus España, y exhibidos en festivales de más de 20 países. También han sido programadas en actividades multidisciplinares como el Sonar Barcelona o en el Museo de Arte Reina Sofía.
También realiza para internet las piezas "diarios móViles" y ejerce la docencia en diferentes centros como el IED (Instituto Europeo de Diseño) o en talleres para el CA2M (Centro de Arte 2 de Mayo).
He was born in 1981 in Santa Cruz de Tenerife. Later he went to Madrid where he studied film and philosophy at the Universidad Complutense.
In April 2013, he presented his latest work, "The Stone" at Visions du Réel (Switzerland) in the official section for competition.
In 2012 his second feature documentary "The Building" participated at the International Film Festival of San Sebastian, the International Film Festival of Buenos Aires BAFICI, DOCSLIBOA and Documenta Madrid, among others.
In 2010 he made his first feature documentary "Holidays" that was awarded, among others, with the Special Jury Prize "New Directors" Film Festival of the International Film Festival of Las Palmas.
With his short film "The Stranger" he won the Grand Prize for the best film in Notodofilmfest 09 or the Special Jury Prize at the International Festival of Viña del Mar (Chile).
He has also made the short films "Fairground workers", "Girdles and corsetors" "Merry Christmas", which were awarded at film festivals such us En.Piezas, Mecal or Zinezi.
His work has been featured in magazines such as Cahiers du Cinema Spain (best jobs of the year), screened on TVE and Canal Plus Spain and exhibited in festivals around 20 countries. They have also been scheduled in multidisciplinary activities like Sonar Barcelona or the Museo de Arte Reina Sofía.
Related RSS Feeds