Antoni 'Tosiek' Degutis
Joined

Location

Canada
Profile Images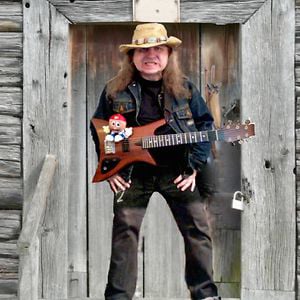 User Bio
Antoni 'Tosiek' Degutis is a Polish Canadian artist currently residing in Vancouver, B.C. Canada. Antoni performs and records exclusively his own music. 'Tosiek' (it's his Polish nickname) plays electric guitar, acoustic guitar, classical guitar, bass guitar, and keyboards. He also uses loops, samples, and programmed beats to write his music. Tosiek writes his music in variety of vibes and musical styles. Antoni likes to take his listeners for a musical journey, through delicate, very melodic and relaxing, sometimes lullaby-like compositions, to entirely different musical realm, where tunes are driven by heavily distorted electrical guitars and strong rhythm section. Antoni also likes to use images and videos to magnify the artistic impact of his music.
Antoni begun his musical adventure back in 70s by studying classical guitar. Later on he became fascinated with electric guitar, and begun his career as a professional musician touring and recording internationally with variety of bands. Years of touring and recording with Polish bands like Mietek Blues Band, ARGUS, and JEEP, gained him all around stage experience, and honed his chops as performing and recording musician. He was ready now to take big step forward.
In 1984, TSA, the most successful heavy metal band in Poland was on a lookout for a guitar player. Antoni auditioned and got the job. After couple of weeks spent with his new bandmates on rehearsing material from three albums and two gigs in small clubs, Antoni was thrown into very deep waters. TSA accepted an offer to open for Nazareth in 1984 during their Polish tour! It was great, eye opening and learning experience for Antoni, a unique opportunity to observe and learn hands on the mechanics of international show-business. Antoni was playing in Big Boys league now. Four and five stars Hotels, expensive meals in expensive restaurants, concerts in big sport arenas and stadiums, hundreds upon hundreds of signatures written on intimate parts of female bodies, interviews for the press, live radio interviews, TV appearances, frequent traveling by air, all that became everyday's experience.
Sharing the same bus and dinner table during the tour with his musical heroes, provided Antoni with great opportunity to learn a lot about Nazareth's history and make friends with them. Antoni recorded three albums with TSA. First album, English version of Heavy Metal World was released worldwide in 1984 by Belgian metal label Mausoleum Records. The second album, Polish version of Rock 'n' Roll was recorded in 1985, but it was released a few years later, because Polish censors objected to lyrics in two songs from that album. Recording session for English version of Rock 'n' Roll to be released worldwide in 1985 by Mausoleum Records wasn't completed due to financial problems. Third album TSA live '98 was recorded during their live concert in Sopot Poland in 1998. On that occasion Antoni's bandmates apart from two original members of the group, were future bass player of Scorpions Paweł Mąciwoda, and Duane Cleveland, accomplished drummer and percussionist from U.S.
Here are links to Antoni's YouTube channels:
youtube.com/user/TosiekDegutis
Here are links to various TSA videos where with one exceptionTosiek can be seen wearing short pants. The one exception where Tosiek is wearing long pants is here:
youtube.com/watch?v=yfJEEEJe00Q
Tosiek has bleached hair, and is wearing white T-shirt with horizontal stripes.
youtube.com/watch?v=UJBRxFxiyUc
youtube.com/watch?v=5cYshLY6Fas
youtube.com/watch?v=AoTqqJWrdGc
youtube.com/watch?v=XONtN26nF_M
youtube.com/watch?v=RenFSO_OoZk
youtube.com/watch?v=SaafZDiw590&feature=results_video&playnext=1&list=PL2EC35B863454DF18
Related RSS Feeds