Shawn Darling
Joined

Location

Las Cruces, NM
Profile Images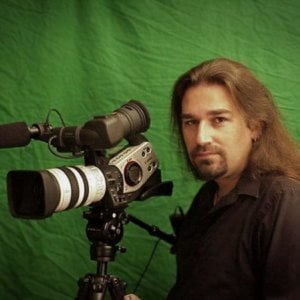 User Bio
I do a lot of stuff. First off I am a musician. I play multiple instruments and sing too. I have been in a lot of different bands (goth industrial, celtic, etc.) Right now I am largely concentrating on electronic music.I am also currently singing and playing guitar for a band called Soulshine. I also do special FX make-up. I used to work in that field in L.A., but now I just do freelance, independent film projects, and give makeup lectures at colleges for my company Gryphon's Egg Productions and Dark August Productions. I am working on a zombie feature film right now. The title is "Grave Mistake .
Grave Mistake will premiere on May 25th at the Rio Grande Theater in Las Cruces , NM at 7pm. It will show again at the Telshor 12 in June. Then later in Albuquerque NM. At that point I will sell it to any interested company so that I may fund my next film. A fantasy epic. Sculpting comes with makeup prosthetics, and I enjoy painting as well, paintbrush or airbrush. I have a 14 year-old son. I do a lot of makeup projects and lectures, I should have some links soon to some of my music, the electronic group is called Dark August. Along with movie makeup, I also enjoy writing and making films and videos. Performance magic is also a huge interest of mine. I used to live in Las Vegas and performed a lot up there. We have started a magic and Illusion troupe called Frost's Pandemonium Carnival. It involves a lot of magic and Illusion but also contact juggling, silk juggling, and fire poi spinning.(gryphonseggproductions.com/pandemoniumcarnival.html)
I am starting a new troupe called Ghost. I will have links for the website soon. For the last five years, I have owned and operated Gryphon's Egg Productions(now being changed to Dark August Productions), a full-scale film, video, and music production company. You name it, we do it. One third of our 3300 sq.ft. house was converted into a two-room recording studio, where all of our recording, mastering, and sound production takes place. I have recorded and produced most of the existing music groups in the greater Las Cruces area. I have put out several short films, music videos, and I am working on several lengthy productions as well. As i said before "Grave Mistake" the zombie film which is being shot all over the state of New Mexico. Grave Mistake just recieved National distribution and will be in every major video rental and retail chain in the USA!! It comes out December 2nd. I am now back in Las Cruces. One of my music videos ("Ceremony" by Whitehawk) recently won first place in its category at the Organ Mountain Film Festival, and will go on to the Governor's Cup Festival later this year. You can view pictures, movie info and much more at (gryphonseggproductions.com) .
I also participate in the Society for Creative Anachronism (SCA). I am a fencer. I've been in on and off for about 14 years.I also run the Magisters Guild for our kingdom. THis is the guild for all of the Magicians in the Kingdom. I mean for stage magic. Historically correct of course.
My son Seth is in the 10th grade this year and is into theater, art, making music, medieval history, and film making. He likes to help me come up with ideas for my movies, and he is acting in one of them right now. He was already featured in one of our movies called "Ghosts" and has the lead role in Grave Mistake. He has begun to make his own movies now as well.
Related RSS Feeds
Recent Activity
Shawn Darling does not have any activity yet.