Boomer Loves Boobies
Joined
Profile Images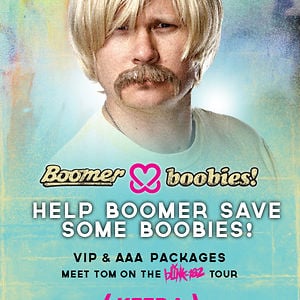 User Bio
Boomer loves him some Boobies!
This summer during the blink 182 US tour, Boomer and Tom will be updating his site BoomerLovesBoobies.com from the road. Friends and fans can come here to see behind-the-scenes photos, videos and blogs as they work their way across the country from NY to Hollywood. You are also welcome to check out the ModBlast area of the site and engage in a live chat with other amigos. Occasionally Tom or Boomer will broadcast live from the road on the ModCam too... so be sure to be on the lookout on Tom's twitter feed so you don't miss it! And the site's FREE... yes 100% pure gratis to your lovely bodies to enjoy. Rad.
Now back to the important stuff. The website will be focused on one very important thing: BOOBIES. In a partnership with his friends at the Keep A Breast Foundation Boomer will be raising money on the tour in an effort to help their mission to "eradicate breast cancer by exposing young people to methods of prevention, early detection and support." VIP and AAA packages are available to those that want to save BOOBIES by meeting Tom, owning some righteous artwork and rocking an exclusive rad accessory that ...wait for it...glows in the freaking dark! Check them out on Boomers TOUR page.
Did someone say save the BOOBIES? Right on brother!
Related RSS Feeds