Amareya Theatre
Plus
Joined

Location

Gdansk, Poland
Profile Images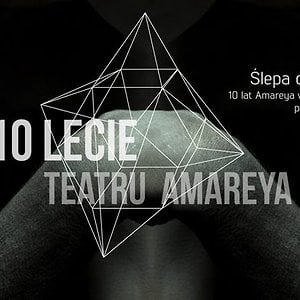 User Bio
Amareya Theatre is a theatre of body that has developed its own movement and acting technique rooted in butō, contemporary dance, body art, laboratory theatre tradition and critical theory. It was established in January 2003 by Agnieszka Kamińska, Katarzyna Julia Pastuszak and Aleksandra Śliwińska and works at the Artistic Centre "Winda" in Gdańsk. We do theatre out of a deep need of community and a need of meeting with oneself, with the others and with the world. For us, theatre means sharing, exchanging and learning how to approach the world around us in a new true way.
The activities of Amareya encompass :
- artistic work - performances, theatre projects,
- educational activities - workshops, publication of articles on theatre and dance
- animation of culture - cultural and social projects developed by Amareya Art Association
Amareya has developed its own method of creative and educational work, based on butō dance, physical theatre, contemporary dance, African dance, voicework, yoga, psychosomatic practices.
Amareya Theatre presented its performances at various festivals, such as: Butō Dance Festival, Gdańsk Corporation of Dance Festival, Gdansk Dance Festival, Villkvinneseminar Norway, "Wyjście z cienia", STTN (Gdańsk), Butoh Barter (Warsaw), Biesiada Teatralna (Parchowo), Tyskie Spotkania Teatralne - here thrice awarded, Student Theatres Festival ATENA, XV Alternative Theatre Meetings Klamra 2007 and others. Amareya took part in such projects as: "Opening Doors III" with the Workcenter of Jerzy Grotowski and Thomas Richards, 'Caravan Project' with Ang Gey Pin, 'Mandala of life and death' with Atsushi Takenouchi, 'Ten ku Youran' with Daisuke Yoshimoto, 'Anatomical Theatre' with Joan Laage, "Dream Regime" with Gekidan Kaitaisha Theatre. Amareya Theatre dancers studied with such butoh and dance/theatre masters as: Ko Murobushi, Yukio Waguri, Atsushi Takenouchi, Yumiko Yoshioka, Minako Seki, Daisuke Yoshimoto, Eugenio Barba, Peter Schumann, Ang Gey Pin, Meredith Monk, Zygmunt Molik and others.
Dancers/actresses gained experience with masters of butō dance such as Waguri Yukio, Yumiko Yoshioka, Atsushi Takenouchi, Seisaku, Ko Murobushi. Amareya Theatre cooperates with Theatre and Performance Research Centre in Bröllin (Germany) and also with the Japanese Body Theatre – Gekidan Kaitaisha (Theatre of Deconstruction) directed by Shimizu Shinjin.
Amareya Theatre has so far received honourable mentions and rewards for the artistic value of 'The Dream of Icarus' (2005), for the originality of form in 'Xenos' (2007) and for stimulating the spectators' imagination by 'Exit – Transgressive Feminal Tryptodram' (2008 – II prize of the jury) during the Tyskie Spotkania Teatralne (Tychy Theatre Festival).
Amareya Theatre and Amareya Art Association also regularly receive financial support from the Gdansk City Council and the Marshal of Pomeranian Voivodeship.
Amareya Art Association
Amareya Art Association was established in 2009. The members of this association include dancers, culture animators, photographers, film-makers, visual artists, singers, psychologists, musicians and others. Amareya Art Association is a non-profit organization which wants to promote artistic and cultural activities and projects. We animate educational and social events, support artists, organize festivals, performances, concerts, shows, exhibitions, lectures and many others.
We are currently realizing three projects:
- Gdansk School of Butoh (long-term educational project)
- Ecology for the Blind
- ART|MOBilisation – dance and theatre project developed by Amareya Theatre with MONAR Drug Addicts Aid Association – premiere planned for 06.10.2012, Gdansk, Club ZAK
Amareya Theatre performers:
Katarzyna Julia Pastuszak (Ph.D): dancer, choreographer, theatre researcher, director of Amareya Theatre, Curator of the Gdansk Dance Festival in the Cultural Centre Club Zak (Gdańsk), promoter of butoh dance in Gdansk area as well as in the Polish theatre landscape. She graduated from the University of Gdansk – Scandinavian Studies Department (MA Thesis entitled "Tracing the Essence of Odin Teatret") and from Theatre Studies at the Theatre Academy in Warsaw (MA Thesis entitled "Introduction to Butō"). In 2010 she also completed Doctoral Studies at the Gdańsk University; her Ph.D dissertation was written on the Gdansk University - Department of Cultural Studies under the title "Hijikata Tatsumi's Ankoku butoh – theatre of body-in-crisis". Pastuszak gives lectures on Japanese Theatre and specifically on butoh, she also translates scholarly texts about dance and theatre and publishes articles to Polish theatre magazines Teatr and Didaskalia. She began her dance and theatre education in 1995. Since then, she participated in various workshops and conferences on dance, butoh dance, contemporary dance, improvisation, contact improvisation and various theatre methods. She studied butoh with such masters as: Ko Murobushi, Yukio Waguri, Atsushi Takenouchi, Yumiko Yoshioka, Minako Seki, Daisuke Yoshimoto and others. In 2003 she founded Amareya Theatre with which she explores butoh practically, using butoh in training and in the creative process. Amareya Theatre performs in Poland and abroad. In 2010 Pastuszak and Amareya Theatre founded Gdansk School of Butoh where they organise butoh performances, workshops and lectures. Katarzyna Pastuszak conducted workshops in Poland, Russia, Norway, Sweden, Japan.
Agnieszka Kamińska - dancer, choreographer, singer, voice instructor, co-founder of Amareya Theatre and Amareya Art Association. She has had many years experience in butoh dance, contemporary dance, improvisation, contact improvisation, expressive dance, Afro dance, Body Mind Centering, various vocal techniques. She has performed in all group performances and projects of Amareya Theatre so far, and has recently choreographed and performed two solo pieces: "Tribute to J.S." and "Rescued. On the edge of heaven", and directed the latest production "Empty home". Kamińska has created her own method of voicework - the Integrative Voicework System®, she gives voice and movement workshops, composes music for theatre and music projects.
Aleksandra Śliwińska - dancer, in her school years she danced in a school dance group, and one year later later joined the Teenage Dance Group FIGIEL
(Młodzieżowy Zespół Tańca) led by Małgorzata Lorenc. There, her passion for dance and the stage started and has lasted till today. She learned many forms of dance and danced in numerous dance-theatre performances directed by Lorenc, which received prizes at regional festivals. She learned contemporary dance at workshops with Milena Jurczyk, Bogumiła Ćwięka, Witold Jurewicz, Leszek Bzdyl, Marek Lachowicz, Beata Owczarek. She also took part in a course for Dance Instructors Koszalin '96-'97. She also attended workshops of contemporary dance, improvisation, contact improvisation, expressive dance, butoh dance, Afro dance, Body Mind Centering and others. The greatest influence on her dance and body work has been exerted by the masters of the Japanese butoh dance. She created her first choreography in 1997 in Połczyn Zdrój and the title was 'Skazani' ('The Sentenced Ones'). Later, in Gdańsk, in 2001 she created with Agnieszka Kamińska the choreography 'Angel in the Kingdom', and in 2002, with Alicja Kurek, the choreography entitled 'The Hues of Velvet'. She has participated in all actions and performances developer by Amareya Theatre. She also works in The Gdansk Medical Academy.
Gdansk School of Butoh
Gdańsk School of Butoh was established in 2010 by Amareya Theatre in cooperation with Winda Club – GAK and the Amareya Art Association. The first session took place in January 2010.
The program of the Gdansk School of Butoh encompasses:
- performances
- butoh workshop led by dancers form Poland and abroad
- theatre and voice workshops
- body awareness workshops
- lectures on butoh, video presentations
- meetings with butoh researchers

The idea of the Gdansk Butoh School is to propagate butoh as a phenomenon, by teaching butoh as dance and philosophy. The workshops take place at the weekends, every month, and the remaining activities (presentations, performances, lectures) – all year round.
Amareya Theatre's performances & projects:
2012
• 'Galskapens kraft' – duet of Katarzyna Pastuszak (dance) and Louise Fontain (music, recitation, song) - premiere: 17.02.2012, Mosjøen (Norway), Villkvinneseminar
• 'ART|MOBilisation' – dance and theatre project developed by Amareya Theatre with MONAR Drug Addicts Aid Association – premiere planned for 06.10.2012, Gdansk, ZAK Club
• 'LIPSSPILL' – dance and visual arts + multimedia project developed with Polish graphic artist Beata Sosnowska - premiere planned for 30.05.2010, Warsaw Pomada Festival
2011
• 'Empty home' – duet by Katarzyna Pastuszak and Agnieszka Kamińska within the Gdansk Dance Festival, premiere 27 November 2011
• 'Faith-ful Bodies' and 'Era of the Sick' – performances directed by Shimizu Shinjin from Gekidan Kaitaisha (Tokyo) with participation of Amareya Theatre, premiere – 08-11.02.2011 - Morishita Studio (Tokyo) within the project Dream Regime 2011
• 'Miasto możliwe' (Possible City) – multimedia performance presented within XII Festiwal Zdarzenia im. J. Szajny. concept: Martyna Groth, Katarzyna Zawistowska; set design: Katarzyna Zawistowska, dance: Katarzyna Pastuszak; film: Łukasz Boros - premiere – 02.09.2011, Gdansk
• 'Wojna polsko-ruska pod flagą biało-czerwoną' – theatre production of Baltic Culture Centre Gdansk, premiere - 30.12.2010, Teatr Wybrzeże – Scena Malarnia; directed by Joanna Czajkowska; dance: Julia Mach, Kacper Matuszewski, Katarzyna Pastuszak, Katarzyna Antosiak, Iwona Gilarska, Anna Haracz.
• Gdansk for Japan – a charity event to support the areas suffering after the earthquake and tsunami in Japan, under the patronage of the Embassy of Japan in Poland, 8.05.2011
2010
• 'Nocturnes' – group performance, premiere 17.12.2010 Gdansk
• 'Rescued. On the edge of heaven.' - solo performance - Agnieszka Kamińska, premiere at the Gdansk Dance Festival, Zak Club, Gdansk
• 'Inscriptions' – group performance at the Gdansk City Gallery
2009
• 'Faceless' - solo performance - Katarzyna Pastuszak, premiere at the Gdansk Dance Festival, Club Zak, Gdansk
• '4 Maidens of Mottlau' - with workshop participants, Galeria LKW Gdansk
• 'Do not give that away' – performance with the group of disabled people from the Blind People's Association "Sinol" within the project 'Inside/Outside'
2008
• 'Tribute to J.S.' - solo performance - Agnieszka Kaminska, premiere at the Tricity Alternative Theatres Festival
• 'Exit – Transgressive Feminal Tryptodram' - premiere at the Tricity Alternative Theatres Festival
• 'Caravan Project' with Ang Gey Pin and Anna Haracz (Kino Variatino) – premiere in Zak Club, Gdansk
2007
• 'Dream Regime – Theatre for Community' – performance developed in cooperation with Club Zak gdansk, Gekidan Kaitaisha Theatre from Tokyo, Joanna Czajkowska (Sopot Dance Theatre) and the teenagers from MONAR Drug Addicts Aid Asociation
2006
• 'Ten ku Youran' – performance developed with butoh master Daisuke Yoshimoto, premiere at the Butoh Dance Festival, Club Zak, Gdansk
• 'Anatomical Theatre Project: Viewer as Voyeur – The Body Beyond' and 'Anatomical Theatre – The Mystery of Life and Death' with Joan Laage and Tomek Chołoniewski (2006-2007), premiered in Uppsala Museum and performed also in the St. John's Church in Gdansk and at the Gdansk Dance Festival
2005
• 'Dialogue on 3 chairs'
• 'Xenos'
• 'Mandala of Life and Death' – performance developed with butoh master Atsushi Takenouchi
• 'Eros and Thanatos' - with performance developed with butoh master Daisuke Yoshimoto
• 'Haiku of Three Women' – performance premiered in Winda Club Gdansk
2004
• 'The Dream of Icarus' – performance premiered in Winda Club Gdansk
Related RSS Feeds