Anthony Bolante ~ Seattle, WA
Joined

Location

Seattle, WA & Honolulu, HI, USA
Profile Images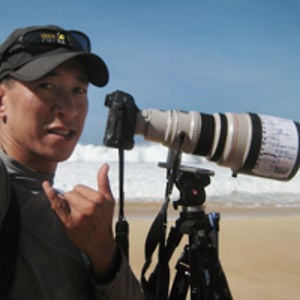 User Bio
Anthony Bolante of The Image Arsenal (TheImageArsenal.com) is a multimedia visual journalist and editor with more than 20 years of professional experience specializing in editorial photography, sports photojournalism and adventure documentation.
Born in Honolulu and now based in Seattle, Anthony has a B.A. in Journalism from the University of Hawaii and a Master of Military Arts and Science degree in Strategic Studies from the resident U.S. Army Command and General Staff College at Fort Leavenworth, Kansas.
Anthony's work experience includes having worked as a staff or contract photojournalist at numerous international wire services, picture agencies and newspapers including Reuters News Pictures, Associated Press, ZUMA Press, Getty Images, Bloomberg News, Polaris, SIPA, Sygma, Gamma-Liaison, WireImage.com, Redbox Pictures, the Hawaii Newspaper Agency, the Honolulu Star-Bulletin, the Bellevue (WA) Journal-American and the Seattle Post-Intelligencer. Anthony is also currently the Wednesday-Friday staff photographer at the Puget Sound Business Journal (PSBJ) in Seattle bizjournals.com/seattle/ .
Corporate clients have included the 2010 Vancouver Winter Olympics Organizing Committee (VANOC), the Microsoft Corporation, the Starbucks Corporation, Alder BioPharmecuticals (Seattle), Tableau Software (Seattle), First Sound Bank (Seattle), Umpqua Bank (Seattle), DeliveryExpress (Seattle), Greenpeace Editorial (Wash. DC), Rainforest Action Network (San Francisco), World Communications and Television (New York), Edelman Communications (Seattle), Waggener-Edstrom P.R (Seattle), and Nyhus Communications (Seattle).
Anthony has extensive on-location, on-deadline experience with a speciality of transmitting (filing) still images to clients throughout the world from remote, austere and often dangerous locations and is currently expanding his Multimedia capabilities in digital SLR video/sound capture and editing using Final Cut Pro software. Here is a small sampling of Anthony's recent Multimedia visual reportage theimagearsenal.com/category/multimedia . Anthony uses Canon Professional still photo and DSLR video equipment (EOS1D MkIV/16MP bodies and EOS7D/18MP bodies; 14mm-400mm/f2.8 lenses) and Think Tank Photo gear thinktankphoto.com.
As is the motto of The Image Arsenal, "Have Camera ~ Will Travel," Anthony is available for global assignments, consulting and visual arts/photojournalism project management and he can be contacted by submitting the electronic message below or if URGENT by calling or texting (206) 920-9757. You can also follow Anthony on TWITTER: @TheImageArsenal
Thank you for your interest in The Image Arsenal!
Related RSS Feeds