Salvatore Vergone
Joined

Location

Staten Island, NY.
Profile Images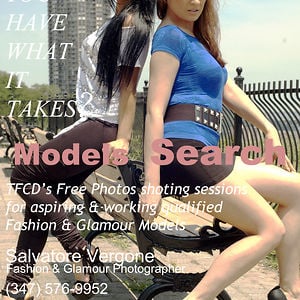 User Bio
Casting preparation for Spring 2013
We're prepare for several casting TFCD's "indoors & outdoors shooting sessions with us start Spring 2013 under the supervision, assistance and collaboration of the famous European professional published photographer (Name be reveal on private email) for a one to one photographers workshop to upgrade my skill shooting with my new Nikon D800 and build and update an amazing portfolio for the benefit either for me and all the models, makeup/hair stylists, wardrobe stylist will wish to submit work with us. After hes vacancy as my guest here in New York I'll continue for more shooting sessions either with my local team and often receiving visiting from Europe from other professional photographers. After submit your application for this casting, keep in touch base to no be forget and fallow and coming visit often for news we'll publish on this websites. We're interested in Fashion & Glamour but, NO NUDITY involve !!!
Bellissime Models by Salvatore Vergone Ph - New York USA (No Profit Organization) - International "Models & Photographers" Public Relations
* Fans: facebook.com/SalvatoreVergonePhotographer Please click this link and give me a friendly LIKE
* Group Page: facebook.com/groups/116125538544082 (you can post your best pictures to promote yourself Worldwide free)
* Personal Page: facebook.com/salvatore.vergone (request be friend to keep in touch if you wish)
* Event Page: facebook.com/events/232392980193880 (here I post time to time: projects, events, and TFCD's)
* Official Website: bellissime.com
Indoors shooting sessions would be done in Staten Island, NY. and Outdoors in vary locations in Brooklyn by: Red Hook by the piers, Bay Ridge by Shore Rd. In Manhattan, Central Park, and Times Square and as far have time many other great places.
My other European friends professional photographers often my guest here in New York
- Eugenio D'Orio (Napoli Italy) eugeniodorio.com
- Alfredo Benincasa (Torino Italy) facebook.com/alfredobenincasaphotography
- King Bueno (Vienna Austria) kingbueno.com
- Mirko Monaco (Prato Italy) mirkomonaco.net
- Alessandro Esposito (Milano Italy) aeseph.it
- Francesco Francia (Terni Italy) francescofrancia.it
- Fabrizio Romagnoli (Firenze Italy) fabrizio-r.com
- Luigi Irace (Ischia NA Italy) facebook.com/iracephoto
Be advise this is a TFCD's casting, aren't money involve, thats only for the benefit for our both portfolios; Models, Photographers, Makeup/Hair Stylists, Wardrobe Stylist. For the aspiring and working models I will need information to be send to NYSTalents@aol.com and attach 2 pictures; one headshot, and one full length. If you wish work with us copy and fill with your information this application and send to NYSTalents@aol.com - Date be determined by appointment time to time every weekends start Spring 2013.
What we need know from talent wish for a photo shooting sessions with us on TFCD proposal:
Email:
First Name:
Last Name:
Country:
State:
City:
Phone:
Mobile:
Gender:
Birthday:
Please submit these measurements for our records. Each category must be filled out for your application to be accepted. Unit of measurement; imperial (in, lbs) - metric (cm, kg)
* Height:
* Weight:
* Dress:
* Chest/cup:
* Hips:
* Waist:
* Shoes:
* Eyes color:
* Hair color
Send Email to: NYSTalents@aol.com and attach 2 pictures on JPG format.
Lets start work now to prepare in advance for seriously and professional TFCD's if interested for a good successful project for both of our benefit.
Would be a pleasure and privilege working with potential qualified aspiring and working models, sincerely,
Salvatore Vergone Ph
Staten Island, New York 10312
United State of America
Cell: 347-576-9952
Email: NYSTalents@aol.com
Related RSS Feeds
Salvatore Vergone does not have any videos yet.