somedaymusic
Joined

Location

Utrecht
Profile Images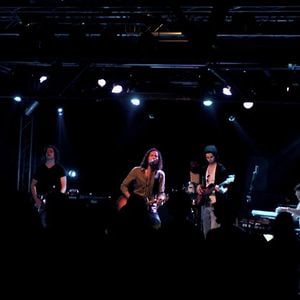 User Bio
2008 is het jaar waarin Someday wordt geboren. Na een aantal muzikale avonturen in de jaren ervoor, besluiten zanger/gitarist Karim ter Veer en gitarist Woodrow Wegkamp samen een frisse start te maken. Ze kiezen ervoor om door te gaan onder de naam die al een tijdje door Woodrow´s hoofd spookt: Someday. Een toegankelijke naam met de mooie achterliggende gedachte en betekenis: ´Ooit´.
Ondanks dat de band op dat moment alleen uit Karim en Woodrow bestaat, vormt het de basis voor een lang gekoesterde droom van beide heren. Geïnspireerd door muziek van artiesten als John Mayer, Lenny Kravitz, maar ook Otis Redding gaan ze de studio in en schrijven ze de muziek die bij Someday hoort. Een frisse sound met teksten die als vanzelf komen als ze samen aan de perfecte melodie werken. Het samenspel tussen de twee blijkt de gouden combinatie te zijn waar ze op hadden gerekend. Ze vullen elkaar moeiteloos aan en schrijven liedjes die voor hen de diepgang hebben die ze niet eerder vonden in de muziek die ze maakten.
Door hun grote interesse voor muziek en andere artiesten, ontdekken ze steeds meer elementen die ze als Someday willen omarmen. Goed geluid, een goeie show, dynamiek en bovenal passie. De artiesten die een onvergetelijke indruk achterlaten, geven Karim en Woodrow inspiratie om te bouwen aan het totaalplaatje dat zij Someday ´ooit´ willen laten uitstralen. Ze krijgen de kans om nummers te schrijven en op te nemen in de Shamrock Studios van Holger Schwedt, die o.a. artiesten produceerde als Van Velzen, Bløf en Anouk. Maar ook werken ze samen met de Amerikaanse singer-songwriter Nate Campany, die verantwoordelijk was voor bijvoorbeeld de hit So Incredible van Ilse DeLange.
Begin 2011 liggen er zoveel mooie liedjes te wachten om het levenslicht te zien, dat de tijd rijp is om hun band verder uit te breiden. Via audities en contacten uit het verleden wordt de band aangevuld met drummer Maarten Kooymans, toetsenist Jeffrey van Rossum en bassist Nard Koeman. De tijd en energie die Karim en Woodrow in ´Someday´ hebben gestoken werpt deze zomer z´n vruchten af. Want juni 2011 is het moment daar: de release van hun eerste single The Things We Say.
The Things We Say is de eerste single van een lange reeks nieuwe muziek, die bol staat van de verschillende emoties. De één geeft je het gevoel om in een cabriolet naar het uiterste puntje van Zuid- Europa te rijden, de ander vertelt het verhaal waarmee een ieder zich kan identificeren.
´Ooit´ is werkelijkheid geworden, Someday.
Related RSS Feeds