Amir Karimi
Joined

Location

Dubai
Profile Images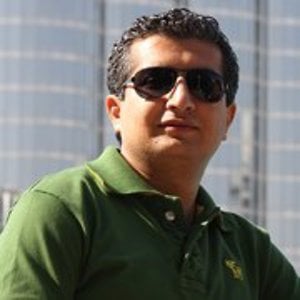 User Bio
Formed in 2002, Large Studio began under the direction and inspiration of Amir Karimi to provide the perfect creative backdrop for design.
Description
Large Studio was established in 2002 By Amir Karimi and has grown over the years. Large Studio specializes in all forms of print and interactive media, including advertising, large-format signage, outdoor, brochures, corporate identity, animation, as well as websites and other forms of new media.
Large Studio is a group active in the field of graphic design, animation and software development in Iran. Large Studio has started its activities since 1982 and is composed of some expert instructors and students who have specialty in different field of computer related knowledge to improve its knowledge in addition to have expert specialists , Large Studio has used the last technology and scientific sources and tries,by using this potential capabilities, allocate an acceptable position among its challenges. Now this group become a great studio with unbelievable capability in different field of IT industry such as Website Design and Development, 3D/2D Animation , Game Development, Poster, Brochure, Logo and billboard Design,...
Lack of the copyright in Iran doesn't bear adequate funds for Large Studio in order to project new softwares. As an outcome to resolve this issue the group is searching for foreign organizations to promote and distribute its products aboard.
Large Studio provides the following creative services
to clients in Tehran and beyond:
• Graphic Design
• Web Design
• Web Development
• 2D/3D Animations
• Search Engine Optimization
• Social Media Marketing
• Content Management Systems
• Advertising Campaigns
• Marketing Strategy
• Outdoor/Environmental Design
• Custom Packaging
• Logo Development/Corporate Identity
• Copywriting
• Brand-Sensitive Direct Marketing
• Brand Building and Reinforcement
• Dynamic Sales Presentations
• Creative Strategy
We welcome your questions, comments, and suggestions:
largestudio.com
largestudio.net
largestudio.org
Related RSS Feeds