Values & Capitalism
PRO
Joined

Location

Washington, DC
Profile Images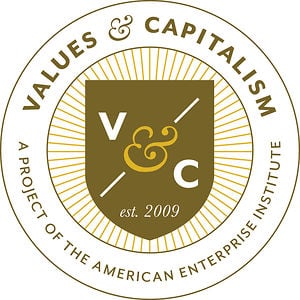 User Bio
Values and Capitalism is an initiative at the American Enterprise Institute that explores the moral and material nature of a market economy. The project emphasizes how the free enterprise system both creates wealth and rests upon traditional American values. Our publications and events are intended primarily for college students, with a particular emphasis on engaging Christian students in a discussion on the compatibility of their faith and the system of free enterprise.
This site hosts a blog, a weekly podcast, videos of our events and debates, and other resources. Bloggers from within AEI and a network of freelance writers cover newsworthy topics, book reviews, and other important policy issues on the site.
A major component of the project is a series of short books on public policy issues written at the level of college undergraduates and educated, but nonexpert, citizens. Book topics include the morality of capitalism, environmental policy, energy policy, trade, social security, tax policy, and how to help the poor. AEI scholars regularly speak on these topics at colleges and universities around the country.
Our goal is to host a conversation about the moral implications of free enterprise and how our values should influence our views on the most important public policy issues. We hope you'll join our conversations on Facebook and Twitter. And please contact us with any comments or suggestions!
Related RSS Feeds