Weekend Challenge: A Unique Point of View
Hello, my creative confidantes!
For this Weekend Challenge we're going to focus on using POV shots as artistic tools. Point of View (POV) is a shooting technique that shows the perspective of a scene from a character or object's position in the setting, whether it's seeing the world through someone's eyes or experiencing the action of orbiting a person as a jumprope, like in this mesmerising video from Callum Cooper:
When you're involved in the scene, the act of watching becomes more immersive than if you were watching everything as a bystander. The most common use of this technique is the "Leading Actor POV," where the audience experiences everything through the subject's eyes.
Action cams
work especially well for this: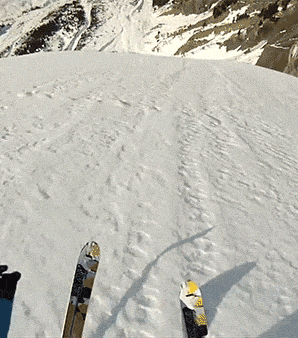 Clips from Cinnamon Chasers - Luv Deluxe and Avalanche Cliff Jump.
But POV isn't limited to views from the actor's head. Think up some unique shots that really enhance the story you're trying to tell. Perhaps you're experiencing the world as a soaring bass guitar, or a delighted pup!

Clips from Battlesnake - The Cheshire Cat and Johnny Neon 'Hearts'.
It's pretty fun to think of creative ways to tell a story using nontraditional views and subjects, so why don't you give it a try? For this Challenge, we want you to explore multiple points of view as a shooting technique for a short narrative. You could try storyboarding your idea to help you come up with a shot list.


Clips from David Finlayson's Trombone Silliness, and Last Day Dream.
Make sure to check out this lesson on POV for more examples of how to use POV to provide a unique perspective.
The Rules:
+ Make a narrative video that includes at least three POV shots from three different perspectives.
+ Keep your video under 3 minutes.
+ If you add music, use a song you've created or something from the Vimeo Music Store.
+ Upload and post your video to the Weekend Project Group by Tuesday, February 26th at 11:59 PM (EST).
Remember that only videos made specifically for this Challenge will be considered. All videos must be approved by the Vimeo Staff before appearing in the Group, so don't worry if your video doesn't show up at first; we'll get to it!
The winner of this Challenge will receive a free Vimeo Plus account for one year!
If you're already a Plus member, you'll get another year! The runner-up will receive an extra 3GB of upload space, Plus account or not.

Clip from Le Miroir.
Ready for a challenge?
Show us your unique POV!
Accept this challenge
~~*~~~*~~*~*~ UPDATE ~*~*~~*~~~*~~
As always, I'm mesmerized by the creativity of our community! Challenge weekends are my favorite weekends.
First place this week goes to Elliot Higger, for his video "Tea", where split screen aides in showing each POV gazing in the direction of the other:
The runners-up are Sam Hamper with POV paintbrush, and Vrais Le Faux with Dionaea muscipula.
Special mention to Pi for filming the moments leading up to his baby's first experience in the world!
Lesson Summary
We challenge you to create a short narrative utilizing several unique POV shots.
New to Video School? Read our Frequently Asked Questions.
Submit Your Tutorial
Most of the video tutorials in our Video School lessons come from Vimeo members. If you have a tutorial you'd like to share, please submit it here.