Virginia Heath
Plus
Joined

Location

Edinburgh, Scotland
Profile Images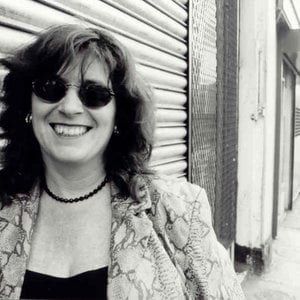 User Bio
Virginia Heath is a multi award winning writer and director with New Zealand and UK nationality. Her short film Relativity (10') won 'Best Short Film' at the Berlin International Film Festival and was nominated for the European Film Academy Awards.
Virginia directed Point Annihilation (30') in her native New Zealand starring Bruce Hopkins (Gamling, 'Lord of the Rings') co-produced with Peter Jackson's company, Weta Digital. Point Annihilation screened at the Cannes Film Festival 2005 in 'Cinema des Antipodes'; was selected by i-Tunes, USA, to pilot the i-Tunes film download site and is still in successful distribution.
Virginia recently won an award from the National Film Board of Canada to develop 'My Dangerous Loverboy', an innovative cross platform project for film, web and mobile to inspire a creative and artistic response to the sex trafficking of teenagers.
Virginia was selected for the '360 Narratives' Writer's Residency 2012 with her TV Crime Series 'Glasgow Kiss' co-written with Alton Milne.
Virginia currently has three feature film projects in different stages of development; Mystery Ride, a dark sensual thriller of love and betrayal set in New Zealand, with development funding from the NZFC; the noir thriller, Pania, a New Zealand-UK co-production, developed with funding from the NZFC and the MEDIA programme of the European Union; and Bitter Little Twist, an off beat Lynchian thriller set in Scotland. Her first short Deep Freeze (15') was screened on Channel 4 TV and in festivals including London, The Hamptons, Foyle, & New Zealand.
Virginia began her film writing and directing career making arts documentaries for Channel Four TV with a strongly authored stamp, including Songs from the Golden City on South African jazz heroes, The Manhattan Brothers. Virginia started in film as an editor and has a very clear idea of the elements needed to create powerful visual stories. Her fiction scripts & films explore the themes of sex, love, betrayal, death and desire.
Selected Credits include:
2012 'Glasgow Kiss' Pilot Mood Trailer for TV Crime Series, 360 Narratives Writer's Residency backed by Creative Scotland.
2009 -2011 My Dangerous Loverboy cross-platform project for film web and mobile on sex trafficking, Writer / Director. Backed by National Film Board of Canada and NFM. mydangerousloverboy.com
2009 My Dangerous Loverboy, 20 mins Teen Drama (& Music Video), Writer / Director. Commissioned by the UK Human Trafficking Centre, premiere Atlantic Film Festival, Halifax, Canada 2009.
2008 Little Lost David Music documentary for Channel 4 TV, Director. Screened at Sheffield Doc/Fest 2008

2007 The Casting Scene innovative cross platform project supported by Channel 4, BBC, Orange and MELT. Creative Director. thecastingscene.com
2007 Devil Don't Mind Music Video for Little Lost David, Director.

2006 'Round Here' Americana Music Video by Stoney. Director for VKH Films
2004 Point Annihilation 35mm 30' fiction, NZ. Produced by Faction North/ Faction Films in assoc. with Park Road Post & Weta Digital. Writer / Director. A dangerous, erotic journey of initiation through surf, sex & tattoos.
2001 Relativity DV/35mm 10' fiction produced by Faction North Ltd for the East London Film Fund, Film Council and Yorkshire Arts. Writer / Director. 'Everything is relative – especially the truth'
1999 Deep Freeze 35mm 15' fiction produced by Faction North for Channel 4 TV, London Production Fund, YMPA, National Lottery. Writer / Director. 'The unexpected gift of a fridge puts the freeze on love.'
1998 Songs from the Golden City 52' Drama Doc for Channel 4 TV 'Arthouse'. Director. 'Exiled jazz heroes find no change in the new South Africa.'
1997 Carlo Levi Stopped Here 38' Doc for Channel 4 TV. Director, 'Italian Jewish writer, Carlo Levi, on the North/South Divide in Italy.'

1996 Memories of Sekoto 38' Doc for Channel 4 TV. Director, 'Gerard Sekoto, legendary 'father' of black South African painting exiled in Paris.'
1996 Looking Both Ways 38' Doc for Channel 4 TV. Director, 'Turkish Painter, Hanefi Yeter, reflects on Berlin before and after the wall.'

1995 Thanks Be To God We're Secular 38' Doc for Channel 4 TV. Director, 'Conflict between secularism and Islam in Turkey.'
IMDB Ref No: imdb.com/name/nm1141538/
Contact: virginia@virginiaheath.com
Website: virginiaheath.com / mydangerousloverboy.com / factionnorth.com
Related RSS Feeds