Krazy Hawaiian
Joined

Location

Hawaii
Profile Images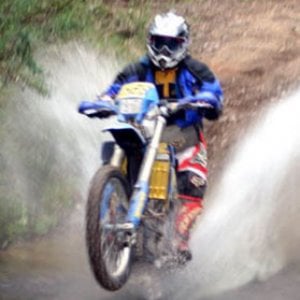 User Bio
Been a Motorcycle rider/racer most of my life. Currently have a bunch of different bikes (ya gotta have several bikes, it's a must! ) from a classic totally restored 1979 Yamaha RD400 Daytona Special (in my videos there is a short vid of me tearing the RD up on New Years Eve. I don't baby my bikes. I build them to be ridden hard and I do just that! ) to my GSXR 711 a 750 GSXR with a totally tricked out 1100 engine stuffed in the frame. That gets you a very light execelent handling bike with way too much power - Just Right!
In between them are a CR500 Honda, DRZ400 Suzuki SM, 300 GasGas Trials bike, DR441 race bike made legal for a killer Dualsport bike and a 1979 Yamaha DT400 Enduro (2 Stroke Monoshocker) that I use as fun street bike (its totally restored and looks like its brand new)
I also raced Sprint Cars. (was 3 time State Champ in Sprints) Done a lot of SCUBA Diving, Surfing, Sailing, Sportfishing and other fun stuff. Also go Camping alot either to the beach by my house to dive for Lobster or up in the mountains to ride dirtbikes and party up!
Hawaii is a great place to live if you ride motorcycles! The season never ends!
Related RSS Feeds