Waterhigh Band
Joined

Location

Outer Banks, North Carolina
Profile Images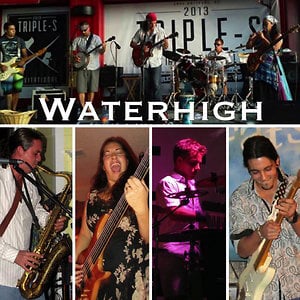 User Bio
Living on the sea has a profound effect on people, and an even more profound effect on the music those people create. Waterhigh is an example of that effect.
Waterhigh was founded in March 2012 by the husband and wife duet of Bobby Zink (lead vocals, guitar, saxophone, harmonica) and Danielle Zink (vocals, bass guitar, penny whistle). We soon met a perfect match in our dear friends Kevin Biddle (drums, percussion), and Niki James (electric guitar). Over the past two years performing live shows at night clubs, bars, festivals, weddings, events, and live on the radio, we have developed a sound as unique as the island we are from.
This winter our band has been living in one house outside of Daytona Beach so we can dedicate time to writing music together while broadening our fan base, performing for new crowds in that part of the country.
We will be performing up and down the east coast this summer, and look forward to seeing you at one of our shows!
Our music is defined by strong lead male vocals and compelling husband and wife duets. They are backed by driving acoustic guitar, intricate drum rhythms, powerful electric guitar leads, soulful saxophone melodies, funky bass, and eclectic elements. Our stage presence is polished, young and vibrant, always positive, and full of energy. Our cover tune selection, as well as our originals, are chosen and designed to satisfy all instrumental music tastes. We love to play to the crowd and always make the people dance. Our catalog consists of many popular mainstream songs, but though we do play covers we believe that our art must contain songwriting. Waterhigh is not your typical "cover band", with a unique sound and the evolution of our original music at our core.
Influences include but are not limited to, the Dave Matthews Band,
Mumford & Sons, Neil Young, Bob Dylan, Allman Brothers,
Widespread Panic, Jimi Hendrix, The Lumineers, Of Monsters & Men,
Sly & The Family Stone, The Rolling Stones, Talking Heads,
George Thorogood, and many more!
Thank you for checking out our music! Life is good!
Related RSS Feeds