Wax Tailor
Joined

Location

France
Profile Images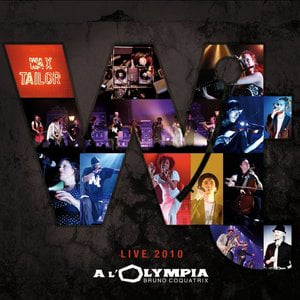 User Bio
In late 2010 after a full year of worldwide tour, WAX TAILOR finally release a 2CD/DVD(or Blu ray) LIVE. This audio & video Live recorded in Paris OLYMPIA, March 26, 2010 is for those who have seen this show on tour, a chance to remind about it & for the others an opportunity to discover it.
His first album "Tales of the Forgotten Melodies" drew comparisons to the likes of RJD2, Portishead and DJ Shadow, while his second "Hope & Sorrow" (80 000 sold worldwide) landed him a nomination at the prestigious Victoires de la Musiques, as well as the US Indie Awards. Wax Tailor is coming off a year which saw him tour relentlessly (over 200 concerts) and score the title track for the movie "Paris" by Cedric Klapisch as well as a few remixes (Nina Simone, ASA). He is now a well-established and respected producer.
Written in both Paris and New York City, his third album "In the Mood for Life" is an organic landscape with orchestral accents. Taking its cues from Soul, Funk, Hip-Hop or 60's Pop Music, this is one eagerly awaited 52 minute journey.
IN THE MOOD FOR LIFE
Who else than this necromancer of forgotten melodies can assemble such a wide array of influences and make them coexist with such ease? On Wax Tailor album melancholic melodies reminiscent of The Cocteau Twins strike a delicate balance with a brand of Hip-Hop seldom seen since the days of Jurassic 5.
Wax Tailor also masters the art of reinventing oneself, and although his signature sound is immediately identifiable, this new album establishes a true evolution both in terms of production and song writing. Sting instruments, which were once just extras, now assume a more prominent role (Dry Your Eyes, Go Without Me). Where genres once crossed path from one track to another, they now collide within a track (This Train, Fireflies). The resulting sound is denser, more organic as well (Leave It, I Own You…) and the song writing more finely chiseled.
With the opening notes, the mood sets the stage. Wax Tailor is now a sound stager, the director of an aural movie whose urban roots meet the perfect casting. Throughout this album, he appropriates a multitude of references with a very personal touch. His music is beyond genres and defies categorization, it is a modern brand of Pop music, designed with a rigor and an expertise that betrays the love this artist puts into his craft.
Guests of the album in order of apparition:
Charlotte Savary – the muse whose voice dresses WT's music with melancholic echoes.
Speech Defect – the raw energy of the Beastie Boys allied with the flow of Jurassic 5. They are the kings of Scandinavian hip-hop and come here to celebrate sampled music.
Sara Genn – following a chance encounter in New York City, WT wrote this title with his friend Marina Quaisse especially to match her voice. No doubt such talent will soon resonate outside of her home city.
Mattic – the charismatic MC who joins WT on stage has been there since the first album. On this record he brings all the energy and mastery of a mature rapper.
Dionne Charles – The Brighton Diva, one of the great voices of English soul comes for a tribute to the sound of Motown.
Voice & Ali Harter – the incongruous meeting of the Louisiana MC and of one of Folk music's best kept secrets delivers a vintage and organic single that crosses genres.
ASM – the English collective were one of the highlights of WT's last album. They come back on a track whose groove is pure delight.
Charlie Winston – shares with WT a taste for hats and a love of Soul. "I Own You" is the illegitimate lovechild of those two universes.
JC's stage name, Wax Tailor, originated in 2004 with the release of his EP "Lost The Way." He subsequently released his first full-length album, "Tales Of The Forgotten Melodies," completely on his own. The album garnered critical acclaim and love from French music fans and became one of the best selling electronic releases of the year. His next move was to take his show live, with a four-piece band, and find a way to translate the cinematic feel of his music through the use of video. Building on the solid foundation in France, Wax Tailor licensed "Tales" to Decon in 2006 for North American distribution and continued touring across the globe, opening up for the likes of Aceyalone & RJD2. In 2007, in addition to the release of his sophomore effort, "Hope & Sorrow," WT & his musiciens made a worldwide tour of a 100 shows. They'll be on the road again this year for a new tour, check the schedule !
__
Related RSS Feeds