YoungGoldie
Joined

Location

Baltimore
Profile Images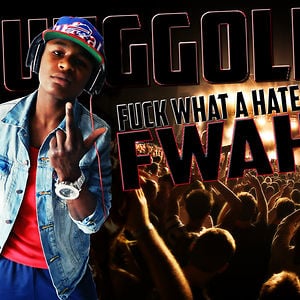 User Bio
YoungGoldie is an American recording artist, producer, Photographer ,Dancer , Model, Video Director and songwriter (born April 8, 1996) born and raised in Baltimore,Maryland . Lyrical Phenomenom, Amin Saddiq Trayvon Peters "Amin" better known by Performer name "YoungGoldie" Or "Lil Cutty" Has Brung A Original And Hot Style to the rap game that Everyday rappers struggle to attain. The Rapper Has Been Dominating the Streets & Cyber World and Have Over 140k + Views On Youtube .YoungGoldie Hit 15,000 Views In A Week On Underground Hit "I Did It I Do It" ,"O'Fan!" & "Gone Make It Clap!" . This was the Breakout Song for the rapper's Name , He was known where ever he went to do shows & Dam Right He Murdered every Performance.
He Has Become A Icon In The City , From Scratch he Started Recording Underground Hit Songs Such As "I Did It I Do It" , "O'Fan" , "Gone Make It Clap!" And He said "All My Songs Were Inspired By SwaggaBoy LoS & Chris Brown" .These Days In The Streets Of Baltimore Maryland All You Can Find Is Death , Drugs or Jail. Music Always Kept Him Busy And Positive "I Wanna Get My Family Out Of The Hood" .He Took His Word Seriously Then Took Action .Without Help He Promoted Himself , Performed At Events For free To Get Notoriety And A Huge FanBase .
Outside of Being A recording Artist YoungGoldie is also known for Photograpy ,Modeling And Dance."YoungGoldie Photography" Is The Name Of His Independent Company .Talent Can Take You A Long Way And YoungGoldie Has The Full Package/Skill That Many Major Stars Today Don't Have.He Always Knew That SomeDay He Would Make It, Says "Im Determined To Reach The Top " . Just Remember The Come Up .
From Elemeantary school He Started To Rap About Age 4 With A Independant Label Called "3rd Exit" . There was major Family Issues WhiCH Disconnected Music From hIM For about 3 years .He Was Drifted away from his dream but that wasnt stopping him. Still To This Day He Has Continue To Improve On His Skill And FAM.E Building His FanBase Around The United States He Has Been Working Very Hard To Succeed .Him And His Team.
Many People Have Said The Same To Him so he wanted us to tell you to "follow your dreams and never give up Because Hard Work Pays Off" . So Get Familiar With His Name and make room for this upcoming star/artist "YoungGoldie" "ShowTime!!! .
For Bookings & Collaberations with this artist Send A Email To YoungGoldiesMusic@Yahoo.com . For More Info On YoungGoldie Contact That Email Or Visit The Official YoungGoldie Website >>> YoungGoldiefans.fourfour.com
______________________________________________________________________
Stay Tuned!
FaceBook : FaceBook.com/YoungGoldieFans
Twitter : Twitter.com/IAmYoungGoldie
YouTube: youtube.com/YoungGoldieMusicEnte
LastFm : last.fm/music/younggoldie/
Related RSS Feeds