Allard van Hoorn
Plus
Joined
Profile Images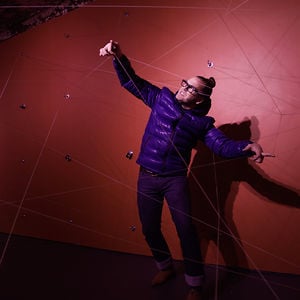 User Bio
Allard van Hoorn was born on February 29th 1968 in Leiden, the Netherlands.
Making a building into music or a dance makes me think differently about that architecture, that structure. I like to turn things on its side, changing the perspective to stimulate our ideas about our environment and how we can engage with it.
Allard van Hoorn is a contemporary performance-, sound- and installation- artist collaborating across the disciplines of architecture, music, theater and design choreographing scripts and scenarios for the urban environment and spatial structures investigating our relationship to the shared domain and our possibilities of negotiating co-ownership and appropriation of public space.
He has been shown at institutions like Gasworks, London, the Stedelijk Museum CS in Amsterdam, the Museum of Contemporary Art in Shanghai, the Van Abbemuseum in Eindhoven, the Netherlands, Museu de Arte Moderna da Bahia, Salvador de Bahia, Brazil, The Moore Space in Miami, Museo de la Ciudad de México, the German Architectural Center (DAZ) in Berlin, the Zendai Museum of Modern Art in Shanghai, CCCB in Barcelona and the New Museum of Contemporary Art in New York.
In 2011 he participates in the Prague Quadrennial of Performance Design and Space, Hear it! at the Stedelijk Museum in Amsterdam & the Gwangju Design Biennale in Korea curated by Ai Weiwei participating in the Communities section elaborating on his project Urban Songlines.
He has been featured in publications like the books Kapital K _ A Classless Character by Onomatopee, On Barcelona by Actar Publishers and Strategies for Reaching the Millennium Development Goals by BigPictureSmallWorld Inc. and the Buckminster Fuller Institute and a variety of magazines.
He is a guest tutor at the Royal College of Art and lectured on art as well as organized workshops and panels for, amongst others, Gasworks, London, Hogeschool sint-lukas, Brussels, Belgium, the Museo de Arte Moderna in Salvador de Bahia, the program Pensando en Voz Alta in Puebla, Mexico organized by Fundacion/Coleccion Jumex, at Sheffield Hallam University and the university for architecture UIC / ESARQ in Barcelona.
Has created content for publications like Domus, Volume / Archis, Urban China, Glowlab and is editor of HTV De IJsberg.
Platform for Urban Investigation
He is the founder of the Platform for Urban Investigation, the nomadic, cross-disciplinary research facility investigating local urban environments around the world working with architects, designers, choreographers, musicians and visual artists. The Platform for Urban Investigation collaborates with the Rijksakademie Amsterdam and its RAIN Networks and is project collaborator for Urban China Magazine.
Related RSS Feeds
Allard van Hoorn does not have any videos yet.