American Le Mans Series
Joined

Location

Braselton, GA
Profile Images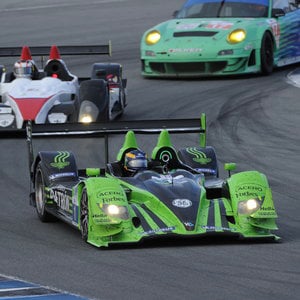 User Bio
DRIVING INNOVATION. . . ONE LAP AT A TIME
Premium manufacturers, world-class teams and the greatest drivers in the world...all pushing the limits of automotive innovation and technology. Welcome to the American Le Mans Series presented by Tequila Patrón – where we contest the race to tomorrow ... faster.
Since 1923, the world-famous 24 Hours of Le Mans has served as the test bed for both man and machine. Each June, the small French town of Le Mans plays host to the twice-around- the-clock endurance classic that has spurred some of the most significant auto advancements in history. Seventy-five years after the first race at Le Mans, Dr. Don Panoz breathed new life into American sports car racing with the inaugural Petit Le Mans in October 1998 and then the first American Le Mans Series race in 1999 at Sebring International Raceway.
Through 11 years and 109 races, the American Le Mans Series has fulfilled Panoz's dreams with a mix of the world's premier manufacturers and leading independent teams. It holds races on the most prominent permanent road courses and major- market temporary street circuits in North America and around the world. Twenty-three venues in five countries have played host to the American Le Mans Series since 1999 with four holding events each year since the Series' inception: Sebring International Raceway, Mosport International Raceway, Road Atlanta and Mazda Raceway Laguna Seca.
The greatest names in motorsports have tested their skills in the American Le Mans Series. Names like Beretta, Bergmeister, Brabham, de Ferran, Franchitti, Kristensen, Lehto, McNish, O'Connell and Salo fill the talent roster. Acura, Aston Martin, Audi, BMW, Chevrolet, Ferrari, Panoz, Peugeot, Porsche and Saleen are among the marques that have tasted victory in the Series, as have teams the caliber of Audi Sport, Corvette Racing, Penske Racing, Prodrive, Rahal Letterman and Risi Competizione.
Le Mans stands for diversity, innovation and relevance – platforms the American Le Mans Series embraces and furthers with each event. Whether it is advancements in energy efficiency, car and safety constructions or tire technologies, the American Le Mans Series IS the ultimate on-track R&D laboratory. These reasons – and many more – continue to be the premium brand of motorsport.
Related RSS Feeds