Amaury Chabauty
Plus
Joined

Location

Paris
Profile Images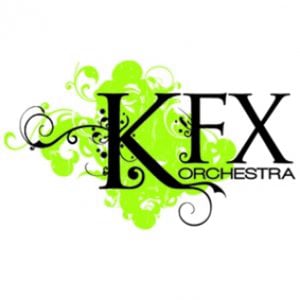 User Bio
Biographie
KFX Orchestra groupe de musique à l'écran, est né en 2006. Cette formation musicale dédiée aux cinéconcerts, à été initiée par Amaury Chabauty, dans le but de faire des concerts sur des musiques composées spécialement pour des films projetés.
Désirant depuis longtemps s'essayer à l'exercice de l'accompagnement de film en live, le compositeur aborde les programmes avec l'idée de mélanger les différentes influences, classique, rock et éléctro, qui ont fait son éducation musicale.
Le groupe constitué entre autres de piano, guitare, basse, batterie, clavier, violon, alto, violoncelle et clarinette, pour un total de 7 musiciens, joue une partition très proche de l'image afin de proposer une interprétation et une vision des films. Un soin particulier est apporté à leur sélection, pour proposer aux spectateurs des oeuvres d'époques très différentes et souvent méconnues. La synchronisation de l'ensemble orchestre et film est invisible, certain des musiciens étant « relié à l'image prêt » par un système de clic métronomique à l'œuvre projeté.
La signification de KFX Orchestra vient de « l'effet Kuleshov » (aussi appelé « l'effet K ») célèbre procédé découvert par Lev Kuleshov en 1918, mettant en évidence l'existence et l'importance du montage au cinéma.
KFX Orchestra a déjà joué en France et au Québec dans plusieurs festivals de Cinéma en 2007 et 2008 et propose un programme d'une heure. L'obtention des droits d'exploitation des films est en cours. Le groupe travaille actuellement sur un nouveau programme.
KFX ORCHESTRA BIOGRAPHY
The screen music band KFX Orchestra was born in 2006. Dedicated to movie concerts, the band was founded by Amaury Chabauty in order to play soundtracks specially composed for movie projections LIVE. The composer, who had always wanted to try out live performances during movie projections, focuses on mixing different influences from his musical education : classical, rock & electro.
The orchestra is composed, among others, of a piano, a guitar, a bass guitar, drums, a keyboard, a violin, a viola, a cello and a clarinet...7 musicians total playing a score tightly linked to the images projected on screen, thus suggesting a personal interpretation and vision of the movie. The band choses all the movies carefully in order for viewers to discover a large scale of themes. The synchronization between the band and the movies is inperceptible because the orchestra uses a metronome clicing device to be in sync with every movie sequence.
The name KFX Orchestra comes from the famous "Kuleshov Effect" (also known as the "K effect") demonstrated by Russian filmmaker Lev Kuleshov in 1918, who showed the existence and the importance of movie editing.
For the past two years, KFX Orchestra has performed its one-hour-concerts at several movie festivals in France and in Quebec.The movie's exploitation rights are currently being acquired and the band is working on a brand new programm.
Related RSS Feeds