American Fangs
Joined

Location

Houston, Tx
Profile Images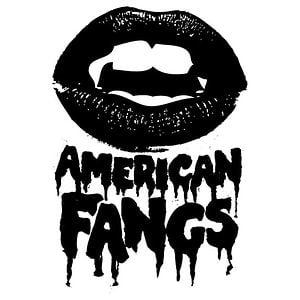 User Bio
DEBUT ALBUM SPRING 2013.
theamericanfangs.com
Biography:
American Fangs is a Houston born rock band (Gabe – Vocals, Micah – Drums, Kenyon – Guitar, Chris - Guitar, Kyle – Bass) whose energetic shows and intelligent music have brought them out of their southern roots and into national recognition.
The members of American Fangs, Gabriel Cavazos (vocals), Micah Miller (drums), Kyle Shimek (bass, vocals), Kenyon Puntenney (guitar) and Chris Goodwin (guitar), met through the local music scene while performing in different bands. The "unscripted" tale of success began with casual jam sessions where the multi-talented 5-piece collaborated and the music synergy grew.
"People have been saying that they think they know where we're going with our music but we think that is impossible because we don't even WANT to know where we are going creatively."
Boosting new rock edge in their effectual tracks, this quintet of twenty something's deliver a sound that will evoke the inner rock star in you, or anti-rock star. "We like our rough edges" Gabe explains about their catchy lyrics and eclectic influence. "Sometimes I have an indie pop moment and I loose my mind, and it's cool".
American Fangs, out of Houston, Tx, got tired of walking the hamster wheel and decided to make an album that hopefully makes you want to quit your day-job and do something REAL. Punch you in the paycheck guitars against Nevermind era-Drums and Rhythm section. For Fans of: Foo Fighters, Deftones, Chevelle, Incubus, Kings Of Leon & Stone Temple Pilots.
Band Interests:
We like hearing about revolutions, new standards, the "good ole days" and celebrities being put in jail.
We are always stoked on playing the following types of gigs: Revolutions, Festivals, Carnivals, Food Drives, Art Exhibits/ Openings, One-offs, Local News Broadcasts, and Live Music Venues.
Favorite Movies:
Point Break
Die Hard
True Romance
Favorite Books:
Jonny Got his Gun by Dalton Trumbo
Earth by David Brin
Rainbow Six by Tom Clancy
Story of the Eye by Georges Bataille
Favorite Magazines:
Juxtapoz,
Arthur
Vice
Free Press Houston
Smoke/Drink?
No/Yes.
Artists We Also Like:
Foo Fighters, Deftones, Chevelle, Incubus, Kings Of Leon & Stone Temple Pilots.
Related RSS Feeds