Ananda Nahu
Joined

Location

rio de janeiro brasil
Profile Images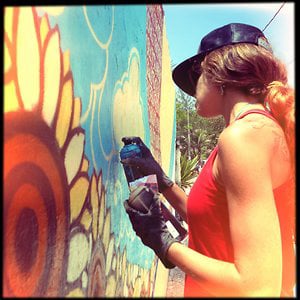 User Bio
Ananda Nahu was born in Juazeiro, on Bahia, Brazil, in 1985. Moved to Salvador in 2001, in 2003 she attended College of Design abandoning it to start in 2004 to attend Fine Arts at the Federal University of Bahia. In this period, she became interested in studying photography and engravings, marked by time studies and research lithography, Serigraphs, metal engraving, and consequently a deepening works in references to these engraving techniques that are Posters.
In 2005 begins to develop the stencil, one type of engraving that is leaked into the mold to obtain shapes and pictures. From the beginning of the fitting colors of the pictures, apply this combination on the stencil and began to work with multiple layers of color. Use these pictures in creating artistic compositions in urban environments and canvases, also begins to improve regional fabric painting, oriental and African, as well as calligraphy and sources together to compose the picture stencil.
The photographs used to make stencil or free hand painting of his characters are mostly written by the artist itself, which is done a photographic essay for construction work, or if not, are based on photographs from renowned photographers of Latin America.
In her references are album covers and movie posters, posters and banners, black culture, Latin, Islamic and Asian, urban and goticas calligraphy, printing and fabrics Brazilian, African, Chinese and Japanese, also classical and religious paintings.
Ananda has established itself as a reference in the technique of stenciling and painting, she maintains an international presence for the Arts since 2006, mainly in Holland, Germany, France and Brazil, having many collectors around the world.

-------------------------------------------------

Ananda Nahu nasceu em Juazeiro da Bahia, e viveu em Petrolina, Pernambuco. Em 1985. Mudou-se para Salvador em 2001, em 2003 cursou faculdade de Design abandonando-a para em 2004 começar a cursar Artes Plasticas, na Universidade Federal da Bahia. Neste periodo, começou a se interessar por gravuras e a estudar fotografia, tempo marcado por estudos e pesquisas sobre Litogravura, Serigrafias, Gravura em Metal, e consequentemente um aprofundamento em referencias de trabalhos com estas técnicas gravura que são os Posters e Cartazes.
Em 2005 começa a desenvolver o Stencil, uma tipo de gravura que consiste no molde vazado para obtenção de formas e imagens. Partindo do principio do encaixe de cores das gravuras, aplica esta combinação no stencil e passa a trabalhar com múltiplas camadas de cor. Utiliza essas gravuras na criação de composições artísticas em ambientes urbanos e em telas, começa a aprimorar tambem pintura de tecidos regionais, orientais e africanos, assim como caligrafias e fontes para compor junto a imagem de stencil.
As fotografias usadas para fazer stencil ou pintura a mao livre de seus personagens em sua maioria sao de autoria da propria Artista, onde é feito um ensaio fotografico para a construção da obra, ou quando não, sao baseadas em fotografias provenientes de fotógrafos da America Latina,
Em suas referencias estão capas de discos e filmes, posters e cartazes, a cultura negra, latina e oriental, caligrafias urbanas e goticas, estamparias brasileiras, africanas, chinesas e japonesas, pinturas religiosas e classicas.
Ananda se consolidou como referencia na tecnica de stencil e pintura, se mantem presente no mercado internacional das Artes desde 2006, principalmente na Holanda, Alemanha, França e Brasil; possuindo diversos colecionadores pelo mundo.
Related RSS Feeds