Mina Ananiadou
Joined

Location

Barcelona-Thessaloniki
Profile Images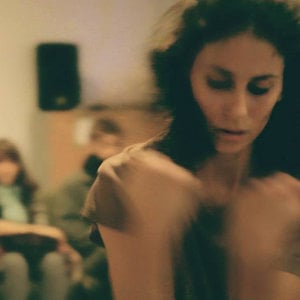 User Bio
Dancer, performer.
(1983, Thessaloniki, Greece)
________________________________________
Mina Ananiadou, born in Thessaloniki in 1983, has finished the Modem Atelier Program, an advanced 3-year full time professional training course in Catania, Sicily next to Compagnia Zappala Danza. She has also studied contemporary dance and improvisation since 2001 next to different teachers and choreographers and in various places (Thessaloniki, Athens, Berlin, Bilbao, Sicily and Barcelona). She has also studied Political Science and Human Rights.
She has performed choreographies of Konstantinos Gerardos (DanceTheater of National Theater of Northern Greece), Salvo Romania (Petranura Danza/D-crean), Lisi Estaras&Nicolas Vladyslav(Ballets CdelaB), Giovanni Scarcella, Helge Letonja, Jan Brezna, Loris Petrillo, Greg Weber and Michal Mualem & Gianalberto de Filippis,.
She has attended various workshops with -among other- Jos Baker (Peeping Tom), Sita Ostheimer (cia Hofesh Sechter) Les Slovaks, Julien Hamilton, Kirsty Simpson, Tomas Hauert, Rob Hyden(Ultima Vez), Laly Aiguade, Linda Kapetanea, Joseph Frucek Ted Stoffer, Kitt Johnson, Francesco Scavetta, Milan & Zuna Kozanek, Michal Mualem, Helge Letonja, Salva Sanchis(Rosas), Nina Dipla, Sonia Rodriquez, Olga Alvarez, Giovanni Scarcella (ex ultima vez), James Finnemore(cia Hofesh Sechter) and Lisi Estaras&Nicolas Vladyslav(Ballets CdelaB)

During the last 3 years, she has been creating and performing her own choreographies together with other dancers, presented in Greece, Italy and Spain. She created and presented Motherland (piece for 5 dancers) and Winter Seeds (piece for 2 dancers) both presented at Scenario Pu.bli.co –Sicily, in May and January 2012 respectively.
Currently she lives between Barcelona and Thessaloniki where she is involved as a freelance dancer in projects most of them under artistic residencies granted by various centres. She also gives classes of contemporary dance and movement research.
In May 2013 she presented a solo creation, titled Otro Lugar (vimeo.com/86779667) as an outcome of a 3-solo joint project called "She is made of…" (4-month artistic residency granted by Centre Civic de Barceloneta), that questioned specific social constructions through movement.
Since July 2013 she has been collaborating with Marta Gálvez Moncasi. Together they presented in November ´13 a particular improvisation piece on instant composition between dance and music titled Propuesta II (vimeo.com/100061737, vimeo.com/86779668 )at the space of nunArt in Barcelona.
In January´13 they completed and presented their new choreography under the title META-(vimeo.com/88635260, vimeo.com/metaminamarta) , outcome of a 3 month residency at the Can Felipa Center , Barcelona. Propuesta II and META- have been presented in various venues (theaters and museums) in Thessaloniki, Athens and Barcelona.
Recently together with the music collective Eventless Plot (Granny Records) and another 3 dancers they presented "TimeITone Project" (an electro-acoustic composition based on a grafic score , physicalised through dance in space)at the museum of Contemporary Art of Thessaloniki.
At the moment she works with the Dancetheater of the National Theater of Nothern Greece, she gives classes and prepares a new duet creation in collaboration with Loukiani Papadaki

Contact:
Email: otrolugardanza@gmail.com
Tel: +30 6945393643(gr)
Fb: facebook.com/OtroLugarDanza
Vimeo: vimeo.com/ananiadoumina
Related RSS Feeds