Andrea Chiozzotto
Joined

Location

London
Profile Images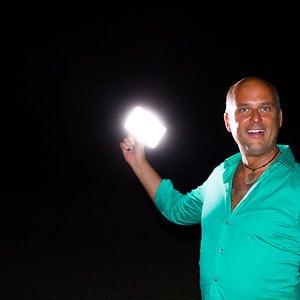 User Bio
Andrea is an award winner cinematographer born in the splendid historical city of Venice-Italy.
As a teenager he developed three strong passions: Still photography, Music and Technology. The merge of these three passions made Andrea approaching cinematography which he learned step by step directly on set working beside oscar winners cinematographers such as Christophe Beaucarne AFC, Robby Müller ASC, Douglas Slocombe ASC, Eduardo Serra ASC, Benoît Delhomme AFC, Alex Thomson ASC, Denis Lenoir AFC, Oliver Stapleton BSC/ASC and many others.
In 1996 Andrea specialised as Cinematographer in London with Billy Williams BSC and following that he attended several workshops with Don McAlpine ASC, Vittorio Storaro AIC/BSC, Vilmos Zsigmond ASC, Oliver Stapleton BSC/ASC ,Dante Spinotti ASC and more.
For a period of over twenty years Andrea got involved in a high number of productions, working his way up the Camera Department. His experience comes from movie sets as diverse as Indiana Jones and the last crusade by Steven Spielberg, Until the end of the world by Wim Wenders, The wings of the doveby Iain Softley, and Casanova by Lasse Hallström.
Andrea has signed cinematography in a diverse range of feature films and documentaries such as Carlo Goldoni: Venice, Grand Theatre of the World, The Tomb Robbery Papyrus: Notes of a Past (winner of best cinematography award, NY 2010), on commercials such as Fritolay, RomTelecom, Veronesi, The Observer Newspaper, British Airways, Danone, and on countless music videos for Top-Ten chart artists published on prestigious labels like SONY-BMG, WARNER MUSIC FRANCE, WARNER MUSIC ITALY and UNIVERSAL.
His expertise is made by a mix of developed technical skills and a natural artistic flair which allow Andrea to shape the canvas in an extraordinary profound and original way, sometimes searching his Italian library of visual beauty. He manages to convey all his work on film or digital quickly and efficiently thanks to his ability of being open and understanding with directors and his nurturing a team driven by true love for the art of cinematography.
He can coordinate any international crew (perfectly fluent in English, Spanish, French and Italian) satisfying any director's need with original, innovative, suitable lighting and VFX work.
Andrea is also a camera operator and works in almost any situation, operating Wescam, long cranes, hand-held, motion control and able to work out original story-telling techniques according to specific director and script requirements.
More at: andreachiozzotto.com