Antony Jinman
Joined

Location

Plymouth, UK
Profile Images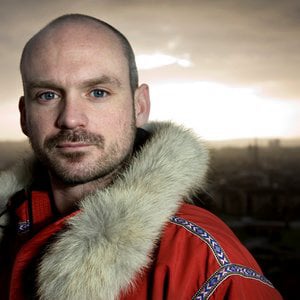 User Bio
Being on expeditions gives you a lot of time to think, to question your desire to continue. But Antony Jinman never does. The question was answered at 22, when a snowboarding accident split a vertebra which left him nearly paralysed. He vowed never to leave a what-if unexplored.
There is no set career path to becoming an explorer. No degree or apprenticeship. Exploration is a realisation of a dream. After five years in the armed forces, Antony left to pursue this dream. He became an adventure tour guide at 23 and then an expedition leader at the age of 25 and travelling all over the world.
Through his years travelling Antony has become an informed and passionate conservationist, working hard to support our understanding and protection of our ecosystems and biodiversity.
His first trip to the Arctic was the 2007 Baffin Island Expedition for the Mitchem Trust, raising £180,000 for vulnerable children. This was the start of a special relationship as Baffin Island has become the hub for Antony's Arctic expeditions, which have taken him to Greenland and the ultimate challenge: the geographic North Pole in 2010.
The Geographic North Pole expedition saw Antony and his two team mates ski and snow shoe (and sometimes swam) over 500 miles from Cape Discovery to the Geographic North Pole in just 51 days, collecting valuable scientific data for the University of Plymouth. Realising his boyhood dream to reach the pole at the age of 29 might seem like the end of his ambition but this is very much not the case: It is as an educator rather than an explorer that Antony wants to be remembered. For the past three years he has been developing his school outreach program, visiting schools and communicating his passion for expedition to children, hoping to inspire them like he was by his hero Captain Scott. This work has flourished to become Education Through Expeditions, a Non-Profit, Community Interest Company that aims to bring real-time case studies to educators on a global basis.
This project (Education Through Expeditions) is a unique pioneering web based resource whose purpose is to inspire and educate children of all ages across the world about global climate change issues and to create a greater respect for the planet. It will achieve this through interactive expeditions and related school outreach work.
Using Education Through Expeditions to spearhead his outreach work, Antony is now embarking on his greatest project to date. He plans to lead the nation and pay his respects to another great Plymouth born hero, Captain Robert Falcon Scott. He will be leading the International Scott Centenary Expedition to Antarctica in January 2012 to visit the last tent site of Scott and his Polar Party and hold a commemoration service. In doing so to rise to the adventure of a challenging environment and involve people from multiple backgrounds and ages.
Antony has received medals from the Winston Churchill Memorial Trust, been endorsed by the Royal Geographical society and was this year was the UK's sole representative at the International Polar Year Teachers Conference in Oslo. He is a popular and experienced public speaker, delivering talks at True North, National Geographic store and Oxford University.
His outreach work in schools is done pro bono and he aims to carbon offset all of his projects.
Related RSS Feeds