Profile Images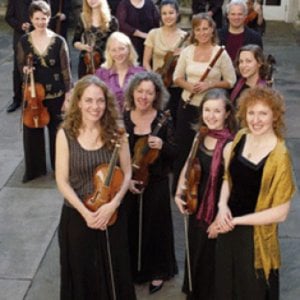 User Bio
Jeannette Sorrell, Music Director
"The renowned baroque orchestra... plays with personality and temperament."
- THE NEW YORK TIMES
"One of America's leading baroque orchestras, capable of competing with Europe's much-recorded bands."
- THE BOSTON GLOBE
"Led by a brilliant harpsichordist, Jeannette Sorrell, the ensemble exudes stylish energy . . . a blend of scholarship and visceral intensity."
- GRAMOPHONE
"They were turning people away at the door . . . That unusually large turnout was warranted by the stylishness and boundless verve of Jeannette Sorrell and her musicians. Apollo's Fire is a superb ensemble."
- THE WASHINGTON POST
In 1992, an award-winning young harpsichordist and conductor, Jeannette Sorrell, gathered some of her generation's finest period-instrument artists to create a new baroque orchestra in Cleveland. A former student of both Gustav Leonhardt and Leonard Bernstein, Sorrell envisioned an ensemble dedicated to the baroque ideal that music should evoke the various Affekts or passions in the listeners.
Apollo's Fire, named after the classical god of music and the sun, is a collection of creative artists who share Sorrell's passion for drama and rhetoric. The ensemble has been praised internationally for stylistic freshness and buoyancy, animated spontaneity, technical excellence, and for the creativity of Sorrell's programming.
Apollo's Fire has been featured on many national and international broadcasts, including holiday programs carried by the European Broadcasting Union. The ensemble has performed at such venues as the Aspen Music Festival, the Boston Early Music Festival winter series, the Library of Congress in Washington, D.C., and many festivals and concert series in New York, Philadelphia, Miami, and Toronto.
Apollo's Fire and Sorrell have released 14 commercial CDs, including the Monteverdi Vespers which was hailed as "a stunning achievement - wins out handily over William Christie's version." (Fanfare Record Magazine, USA)
"Sorrell has developed one of the most enterprising and plucky early music ensembles in the nation today."
- AMERICAN RECORD GUIDE
"The exhilaration and sense of discovery is utterly infectious."
- INTERNATIONAL RECORD REVIEW
(GREAT BRITAIN)
ARTISTIC PHILOSOPHY
"Music is a form of communication - a language that resonates with people in an emotional and spiritual way. The treatises from the 17th and 18th centuries talk about Affekt - the emotional character of the music. The performer's role was to evoke a particular emotional state in the listeners - whether that be joy or contemplation or rage or despair or triumph. The baroque performer used every possible means to cast his emotional spell on the audience: rhetoric, gesture, harmony.
Apollo's Fire is a collection of artists who believe passionately that our job is to communicate - to take the listeners with us on an emotional journey. If, at the end of two hours, the audience is moved to tears, or joy, or laughter, or prayer, then we've done a good night's work."
— Jeannette Sorrell
Related RSS Feeds