Asia Der
Joined

Location

Budapest, Hungary
Profile Images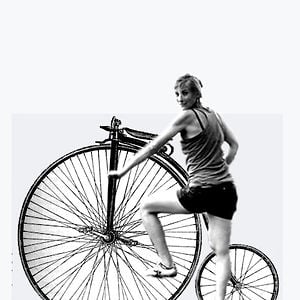 User Bio
PERSONAL
I was born in Bratislava but since than I am living in Budapest.
I graduated from esthetics and media studies.
I am working as a free lancer videomaker and documentarist.
At the moment I am taking part at DOCnomads Erasmus Mundus Masterclass on documentary film direction.
I like hitchhiking, my bike and old lenses.
CONTACT
e-mail: asia.andrejevna@gmail.com
mobil: 003630-9401960
skype: asia derova
PROFILE:
Freelancer videomaker, and documentary director.
Festival documentation, making off, interviews, NGO short movies.
SCHOOLS
- I finished my studies in 2011 at Media Studies and Esthetics.
- Currently studying at University of Film and Drama, Documentaryfilm directon MA
FILMS
 Rage against the regime (short documentary, 17 min, 2005.) I did my first short documentary in Edinburgh about the G8 counter summit. The film was showed in many Hungarian festivals.
 Teleapathy (short fiction, 13 min, 2008). The film got the price of the best original script at the Faludi Academy in 2009.
 Violin (fiction-documentary, 6 min, 2011.)
 Private Mészöly (with Péter Gerőcs) (documentary, 80 min, 2011.) The movie tells a story about a Hungarian writer, Mészöly Miklós, through his followers, friends, lover's eyes. The movie was showed in several places in Budapest and in the countryside.
- It is all umbrellas (documentary, 15 mins, 2013) Umbrellas, a red coat and fado. What's your way of struggling?
PHOTOGRAPHY
 Two photos of mine were selected to the Children of the world international photo competition and exhibition organized by The Photographic Society of Singapore.
 In 2011 I did a socio photo serial in Bódvalenke (a little village close to the Slovak border, with 220 gipsy inhabitants, who painted frescos on their houses). The photo series was exhibited in Budapest, and Brussels.
WORK
 From 2006 till 2009 I worked for state TV channels in cultural magazines as an assistant to director and editor.
 In 2008 I worked as a video maker for an online TV. This job included shooting, editing, interweaving which I did myself.
 From 2008 till 2010 I was a chair-member of the Hungarian Student Jury. Each year we picked one member of the Hungarian film schools who represented the point of view of the students on several film festivals. I did the festival-coordination, photo and video documentation, review writing.
 Since 2010 I am working as a videomaker with the Green Spider civil media team. We do videos in the social, environment protection and "transparent society" field. As a free lancer I do festival, theater and movement video and photo documentation.
 2012. Assistant to director at an HBO series (In treatment). Directors: Ildiko Enyedi, Attila Gigor.
 I do flyers, posters using Adobe softweres.
I work with my own equipment: Canon 550d, several objectives, tripod, microphone, and a PC for HD editing with Adobe Premier Pro CS 5.0
Languge skills
• Slovak, Hungarian – mother tongue
• English – advanced
• German – basic
I do the translation of literary and technical texts from Slovak language to Hungarian.
Other experiences
o From 2008 till 2011 I worked for the Vertigo Slovak Theater in Budapest. I did assistant to director, translation, posters and photos.
o In 2006 I spent 5 month in Hurghada, Egypt as a kid animator. I leaded a child-club for international kids, doing sport and handcraft activities.
o On the summers of 2007-2009 I did a voluntary job as an English-Hungarian translator with a Dutch group called World Servant in Ukraine.
o In 2008 and 2009 I leaded a media workshop for young people at the "Meet the Freak" - international art meeting.
o In 2011 I worked as a bar tender in a bar.
Hobbys
 Bicycle
 Literature
 Contemporary visual art
 Contemporary dance
 Martial arts, especially Kung Fu
Related RSS Feeds