Astro Joey and the Cosmic Rays
Joined

Location

Planet Girlo
Profile Images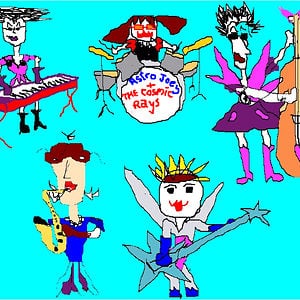 User Bio
Astro Joey & The Cosmic Rays are a top of the charts virtual all girl band from Planet Girlo, They have played all around the cosmos to sell out audiences.
Their fans rock and bop to the original Quartz Rock sound pioneered by the band.
Astro Joey - Lead Guitar
Aunt Astroideena - Saxaphone
Marzipan - Drums
Galaxia - Bass
Kristy Solarflare - Keys and Vocals
Plutina - i-pod and percussion
Mother Crator - Tamborine
The band often invites celebrity stars to join them including the likes of :
Annie Sunray and Ella Mooney
Astro Joey is a curious adventurous, children's book character. Born on Planet Girlo, she travels the Galaxies, meeting all types of characters,artist, musicians, villians and foes.She is a little super hero inspiring young girls. (and boys too:) )
The adventures of Astro Joey is a series of stories presented in convergence media format. For Mobile Devices, I-pad, TV and multiple media platforms.
Astro Joey and the Cosmic Rays like children's programs, animations, old cartoons, music,art and culture.
Currently Astro Joey and the Cosmic Rays are in the studio producing their debut Music Album, featuring Ms Kristy Solar flare, or in the earthling world BMI Award winning, Kristy Jackson ( kristyjackson.com/?d=content&p=bio )