Profile Images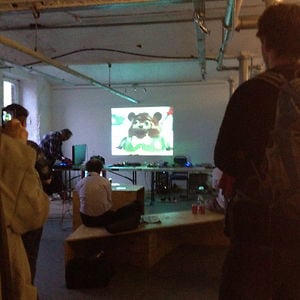 User Bio
Attributed Sound is an artist led visual/sound art project hosted by RS Projects. On the occasion of the first outlet Attributed Sound 1 artists responded to a visual artwork 'Love is All Around Us' by Rosanne Robertson with a piece of sound. The responses varied wildly- ranging from audio signals generated from the colour values of the 8 191 815 pixels that constitute the starting image to manipulation of love songs into unrecognisable forms. These tracks make up the first Attributed Sound album available free at attributedsound.com
The event which took place on May 31st 2012 acted as the launch of the compilation album where artists and guests listened to the group response for the first time together. This was followed and accompanied by a sound art show with moving image, live sound making and a projection piece by artist Debbie Sharp. On the night we saw performances accompanied by the first ever porn film, an installation of a flower with a projected and sound interpretation of IIV6 (a disease that killed thousands of honey bees) and noise making with rubber string amongst a whole other range of performance and video.
Attributed Sound artists are:
Shaun Blezard
Matt Dalby
Rob Dunne
TanDog
SoftWorld: Jeremy Gluck and Don Tyler
Hot Hail
Noise Research: Ian Simpson
Debbie Sharp
Josef Minta
Rosanne Robertson
Visit artists individual sections on attributedsound.com for further details about their practices.
Attributed Sound is a continuing project with many possibilities for collaborations and shows in the future. Keep checking in with @RS_TAKEOVER on twitter for news about Attributed Sound 2 and follow RS on tumblr for updates about Attributed Sound and other artist led events robertsonsharp.tumblr.com/
External Links
Project Website - visit for free Attributed Sound 1 compilation album and information about the artists.
Related RSS Feeds