Aventuras En Moto
Joined

Location

Por el mundo en moto
Profile Images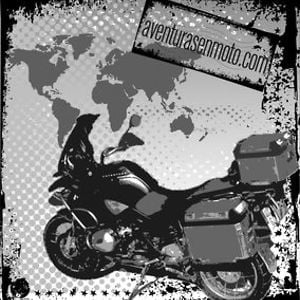 User Bio
Nuestra AVENTURA EN MOTO por 40 países de 4 continentes// Our MOTO ADVENTURE through 40 countries around 4 continents.
Jose Mª García y Pilar Moreno (Madrid - España)
El 7 de Julio de 2012 comenzamos nuestro viaje en moto a bordo de una BMW GS 1200 Adventure. África lo haremos con dos motos. Nuestro plan inicial era rodar durante 9 meses desde Madrid y finalizar en Sidney, pero la aventura y las ganas de viajar nos ha llevado a alargar este viaje.
Juntos recorreremos más de 100.000 km, 40 países de 4 continentes en casi 2 años.
------
On July 7, 2012 we started our bike trip on a BMW GS 1200 Adventure. Africa we will ride with two bikes). Our initial plan was to ride from Madrid to Sydney in 9 months and finish there, but the adventure and the desire to travel has led us to extend this trip.
Together we will travel more than 100,000 km, 40 countries on 4 continents during almost 2 years.
¿Cómo seguirnos o contactar? /// How to follow and contact us?
aventurasenmoto.com
facebook.com/AventurasEnMoto
Twitter: @aventurasenmoto
madridsidney@gmail.com
vimeo.com/Aventurasenmoto
Rodaremos por estos países:
Italia
Croacia
Serbia
Montenegro
Bosnia
Albania
Grecia
Turquia
Irán
Turkmenistán
Urbequistán
Kyrguistán
China
Paquistán
India
Nepal
Tailandia
Laos
Vietnam
Camboya
Malasia
Indonesia
Timor del Este
Australia
Nueva Zelanda
Sudáfrica
Suazilandia
Lesotho
Namibia
Botswana
Zambia
Malawi
Tanzania
Ruanda
Uganda
Kenia
Etiopia
Sudán
Egipto
Libia
Túnez
Argelia
… y España!!!!
Related RSS Feeds