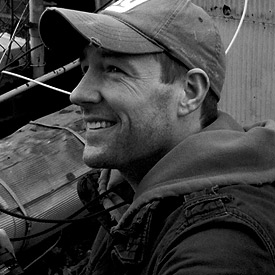 Ed Burns
Lauded by critics and audiences alike, Ed Burns gained international recognition for his first feature film THE BROTHERS MCMULLEN, which premiered in competition at the 1995 Sundance Film Festival, winning the Grand Jury prize. The film, which Burns wrote, directed and starred in, was shot on a budget of only $25,000 and went on to gross over $10 million at the domestic box office, making it the most profitable film of 1995. The film also won "Best First Feature" at the 1996 Independent Spirit Awards.
Burns' second film, the romantic comedy SHE'S THE ONE starring Jennifer Aniston and Cameron Diaz, reinforced Burns' versatile talent as a writer, director, and actor able to simultaneously and successfully wear multiple hats.
His 10th feature film as a writer, director and actor is the romantic drama NEWLYWEDS, which had its world premiere as the closing film of the 2011 Tribeca Film Festival. Burns has been actively involved with the TFF since the festival's inception in 2002.
Burns continues to write, direct, star in and produce his films, including the Paramount Classics relationship comedy SIDEWALKS OF NEW YORK, PURPLE VIOLETS, and most recently, NICE GUY JOHNNY. In a groundbreaking deal, Purple Violets was the first feature film to premiere exclusively on iTunes. Burns expanded on this new model of digital distribution to include cable Video on Demand to reach even wider audiences and successfully released two films, NICE GUY JOHNNY and NEWLYWEDS via these platforms in 2010 and 2011.
As an actor, Burns starred opposite Tom Hanks and Matt Damon in Steven Spielberg's critically acclaimed World War II epic SAVING PRIVATE RYAN. He also starred in the thriller 15 MINUTES opposite Robert De Niro, CONFIDENCE opposite Dustin Hoffman, and the 20th Century Fox romantic comedy hit 27 DRESSES opposite Katherine Heigl.
Burns will star opposite Tyler Perry and Matthew Fox in I, ALEX CROSS which is set for release in late 2012. His recent acting projects include FRIENDS WITH KIDS, with Jon Hamm and Jennifer Westfeldt and MAN ON A LEDGE, opposite Sam Worthington and Elizabeth Banks.
Ed Burns was born in Woodside, Queens and raised on Long Island. While at Hunter College in New York City, Burns switched his focus from English to filmmaking before quickly moving on to make The Brothers McMullen, which won the Grand Jury Prize at the Sundance Film Festival.
He lives in New York City with his wife and two children.